Our New Ride & Dine Package Offers a Unique Equestrian Experience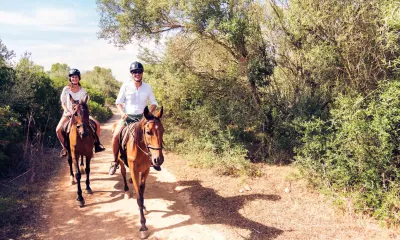 If you're looking for an unforgettable couples adventure as part of your next romantic getaway along the shores of Lake Michigan, then we've got exciting news for you! The Hotel Saugatuck has teamed up with our friends at Rise & Ride Ranch to bring our guests an incredible way to enjoy the great outdoors – from our forests to our beaches – in one fun experience!
Your Ride & Dine adventure begins at Rise & Ride Ranch in Allegan, where you and your partner will go on a private, one-hour horseback ride through quiet, wooded trails along the Allegan countryside. As soon as you arrive at the ranch, you will be greeted by friendly staff who will help you select the perfect horse that is best suited to your skill level. Don't worry if you've never ridden a horse. This easy-going, guided ride is the perfect experience for first-timers. Thanks to the horses' gentle manner and the staff's constant help, riders will feel at ease every step of the way. The majestic horses will lead you on an hour-long leisurely ride through lush trees and along meandering paths, where you and your partner can observe the beauty of Michigan's great outdoors in breathtaking, peaceful surroundings.
After this memorable equestrian experience, it's time to enjoy a delicious picnic lunch for two. Prepared with fresh, seasonal ingredients by our chef at The Hotel Saugatuck, the meal will include gourmet deli-style sandwiches, salads and two keepsake water bottles. We suggest venturing to Lake Michigan's sandy shoreline to savor your picnic lunch while taking in amazing water views. One picnic spot we recommend is Saugatuck Dunes State Park, which stretches along 2.5 miles of Lake Michigan shoreline and features coastal dunes over 200 feet tall. Eat at tables in the picnic shelter or get cozy on a picnic blanket. Another perfect lunch spot is Saugatuck's world-renowned Oval Beach, ranked by Condé Nast Traveler as one of the Top 25 beaches in the world. With stunning views of the sweeping shoreline, sparkling water and towering sand dunes, Oval Beach is a relaxing, picturesque picnic destination.
Whether you're looking for a unique outdoor activity or simply want some quality time away from it all, a trail ride at Rise & Ride Ranch followed by our chef-prepared picnic lunch is sure to be just what you need! Please be sure to book our Ride & Dine package at least 5 days in advance so that we can coordinate your adventure prior to your arrival at The Hotel Saugatuck. Subject to availability. Call or click to make your reservation today!
"No hour of life is wasted that is spent in the saddle." ― Winston S. Churchill