Saugatuck in the Fall: A Perfect Destination for a Romantic Getaway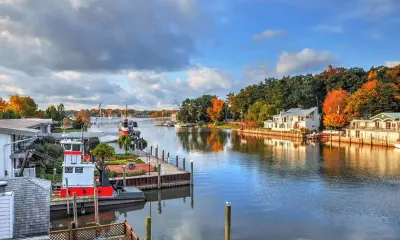 Nestled alongside the scenic Kalamazoo River, the picturesque town of Saugatuck is a haven of charm and romance and is one of the most romantic places in Michigan. While this gem on Michigan's west coast is a sought-after summer destination, it's during the gentle embrace of fall that Saugatuck truly shines. When the summer crowds disperse, and autumn hues paint the landscape, Saugatuck transforms into the perfect backdrop for your Lake Michigan romantic escape.
Renowned as one of the top romantic getaways, Saugatuck, Michigan, is an enchanting destination that captures the hearts of couples from all over.
A stroll through downtown Saugatuck will lead you to numerous quaint shops and art galleries. The 24,000-square-foot Saugatuck Antique Pavilion is a treasure trove waiting to be explored. You can spend hours here unearthing unique finds or reminiscing about times past with their extensive collection of antiques.
If you're looking for more outdoor pursuits during your romantic weekend, why not take advantage of Saugatuck's proximity to some breathtaking natural wonders? From hiking trails at Sleeping Bear Dunes National Lakeshore to picturesque views at Pictured Rocks National Lakeshore, there are plenty of opportunities for adventure - or simply enjoying each other's company amidst stunning landscapes.
1. The Autumn Colors
No words can capture the breathtaking view of Saugatuck's rolling hills, dunes, and forests during the fall. The town and its surrounding area become a canvas of amber, gold, and fiery red. A scenic drive through the winding roads offers couples an intimate experience with nature's changing seasons. The towering trees, now painted with autumn shades, make every moment feel like a scene from a romantic movie.
2. Cozy Bed & Breakfasts & Romantic Hotels
Saugatuck is renowned for its delightful bed & breakfast accommodations. With the cool fall breeze outside, imagine snuggling up with your loved one next to a roaring fireplace. Our Saugatuck bed and breakfast is within walking distance of the historic town of Saugatuck and offers the ideal location to start your romantic weekend getaway. Our attention to detail, from homemade breakfasts and evening desserts to luxurious linens, will ensure your romantic escape is intimate and unforgettable.
3. Plan Your Romantic Weekend with A Stroll Down Butler Street
Downtown Saugatuck's Butler Street is a treat in the fall. The boutique shops, art galleries, and quaint cafes offer a cozy experience. Stroll hand-in-hand with your loved one, taking in the seasonal decorations and the aroma of pumpkin spice in the air. Whether it's purchasing artisanal crafts, sampling the best of fall-flavored treats, or simply people-watching from a cafe terrace, Butler Street is the heart of Saugatuck's charm.
4. Sunset on Oval Beach
While summer may be the traditional season for beach visits, there's something undeniably special about walking on Oval Beach during the fall. The crisp air, the serene atmosphere, and the sun setting in a sky painted with hues that match the trees - it's a sight to behold. The gentle whispers of waves make for a perfect backdrop as you walk side-by-side, leaving footprints in the cool sand.
5. Wine Tasting Tours
Saugatuck's proximity to the Fruit Belt of Michigan ensures it has some delightful vineyards and wineries. Fall is the season of harvest, making it an ideal time for wine tours and tastings. Warm up with a glass of red or indulge in the local cider - each sip promises to be a dance of flavors. Vineyards, with their rows of grapevines laden with ripe fruits and adorned with the colors of fall, add to the romance.
6. Dive Into Saugatuck's Culinary Scene
In addition to natural beauty, West Michigan is also known for its thriving food culture, which adds another layer to your romantic weekend getaway in Saugatuck. Enjoy meals at local eateries serving farm-to-table menus featuring locally sourced ingredients from nearby farms; these establishments satisfy your palate and give you insights into the region's culinary heritage. Fall in Love with Saugatuck's most romantic restaurants.
7. Boat Rides on the Kalamazoo River
Don't miss out on the opportunity to cruise along the Kalamazoo River, even as temperatures dip. Bring a jacket, embrace the cooler weather, and embark on a tranquil boat ride, where you can admire the stunning autumn colors adorning the riverbanks. With fewer boats around, this serene experience becomes even more memorable.
8. The Art Coast
Saugatuck has long been dubbed "The Art Coast of Michigan". For art-loving couples, our town offers an array of galleries showcasing the talents of local and visiting artists. In the fall, the art seems even more inspired, perhaps mirroring the masterpiece that nature paints outside.
There's a timeless allure to Saugatuck, especially during the fall months. The pace is slower, the ambiance more intimate, and nature's display of colors is nothing short of awe-inspiring. It's a destination where memories are made, stories are shared, and romance blooms amidst the hues of autumn.
If you are looking for the perfect romantic destination to rekindle your romance, Saugatuck during the fall season is the perfect destination. So grab your cozy sweaters, bring along your cameras, and get ready to be enchanted by the romantic allure of Saugatuck this autumn.