Seasonal Markets Offer Best of Michigan's Homegrown Bounty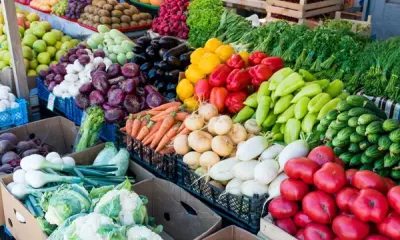 Farmers markets on Michigan's west coast are exciting places that bring together local farmers, artisans and communities. Shopping at these seasonal markets is one of the best ways to eat homegrown and homemade foods while supporting the regional economy. Here in Saugatuck, the Market at SCA is a true treasure for locavores, with a bustling, lively atmosphere.
Held at the Saugatuck Center for the Arts, the Market at SCA brings fresh food direct from farms to shoppers. Beginning Memorial Day weekend and running through September, the market is open Tuesdays from 10 a.m. to 2 p.m., and Fridays from 9 a.m. to 3 p.m. It offers plenty of gorgeous Michigan produce and artisan goods from an impressive array of vendors. Enjoy local fruits and vegetables, artisan baked goods, locally harvested honey and maple syrup, fresh eggs, cheeses, and meats.
In addition to a wide variety of locally produced food, you'll find artisan goods such as handcrafted candles, lotions and soaps, jewelry, and fine art. Grab something to eat from one of the food truck vendors while you enjoy live music that sets the vibe. And don't forget to stop by the cash bar, a new addition to this market.
Can't get enough of the local produce and goods? Check out the harvest at these other nearby farmers markets:
Holland Farmers Market (12 miles)
Beginning May 12, visit the Holland Farmers Market at 150 W. Eighth St. in downtown Holland on Wednesdays and Saturdays from 8 a.m. to 2 p.m.
South Haven Farm Market (19 miles)
The Huron Street Pavilion is home to the South Haven Farm Market, which runs from 8 a.m. to 2 p.m. Saturdays from mid-May through early October, and additionally on Wednesdays June to August.
Allegan Farmers Market (25 miles)
Located in downtown Allegan on the corner of Cutler and Water streets, the Allegan Farmers Market takes place every Thursday from 8 a.m. to 2 p.m., beginning the first week of May and running through the second week of October.