Tulip Time in Holland, Michigan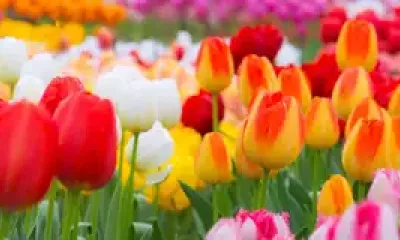 With spring just around the corner, it won't be long before tulips emerge with their colorful buds and bloom in vibrant rainbow hues. In celebration of these cheerful flowers and its Dutch heritage, the nearby city of Holland, Michigan, hosts the Tulip Time Festival — an event dating back to 1929. After cancelling the festival for the first time in its 91-year history in 2020, organizers of this spring Michigan tradition have re-imagined the festivities for this year's event, slated for May 1-9, 2021. Tickets will be required, so be sure to visit the website for the latest information.
When the festival began nine decades ago, the city of Holland planted about 100,000 tulip bulbs. Today, roughly 6 million tulips are planted along city avenues, in downtown planters and throughout city parks. A short 15-minute drive makes The Hotel Saugatuck the perfect place to stay when you come see for yourself why Tulip Time has been lauded as the nation's Best Flower Festival and America's Best Small Town Festival.
Events currently on the schedule include:
Tulip Time Run: Saturday, May 1 at Kollen Park. The 5K race will be held at 8 a.m. and the 10K at 9 a.m. A virtual race also is being planned. Register for the race by April 30.
Tulip Immersion Garden: Located at Dunton Park on Holland's north side, this new addition to the festival is a stunning garden with thousands of tulips presented in raised beds. Designed by Ibo Gulsen of the Netherlands, the garden will tell a story about the tulip – from its beginnings to its arrival in Holland.
Dutch Marktplaats: Held at Holland Civic Center Place, visitors can experience the sights and sounds of a traditional Dutch marketplace with plenty of Dutch food, merchandise and demonstrations. Plus, don't miss the new Dutch Dance Costume Exhibit.
"Where flowers bloom, so does hope." —Lady Bird Johnson