Discover Indiana Dunes State Park: A Hidden Gem Along Lake Michigan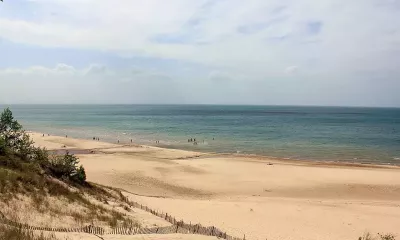 Lake Michigan – Home to Preserved Nature, Outdoor Adventure, and the Midwest's Best Beaches
With its 2,000 acres of nature preserves, pristine beaches, and miles of trails throughout sloping dunes and dense forests, there is no better place to experience the beauty of the Lake Michigan shoreline than Indiana Dunes State Park.
Recreation abounds, as there are three miles of beaches within the park's boundaries, perfect for planning a relaxing day on the sand and in the water during the hot summer months; meanwhile, spring, fall, and winter offer great opportunities for hiking, snowshoeing, and cross-country skiing. And birding enthusiasts will be thrilled year-round, as the dunes and inland beech forests are one of the midwest's most famous hotspots for seeing birds migrating south from the Arctic down to South America, with over 300 species spotted annually.
An easy 90-minute drive south from our Saugatuck hotel, it makes for a memorable day trip down to the dunes to explore the lovely beaches, abundant nature, and gorgeous scenery along the southern shores of Lake Michigan.
Majestic Dunes and Endless Trails – Get Out and Explore
Formed over thousands of years and resulting from Lake Michigan's powerful winds pushing sand ashore, the lakeshore dunes are stunning, some reaching almost 200 feet high. As Lake Michigan's water levels and tides changed over millennia, the dunes evolved – a rare and ever-changing landscape supporting an impressive array of plants and wildlife.
To get a sense of the uniqueness of the area, start with a visit to the Park Nature Center, where you can chat with knowledgeable staff, pick up trail/dune/forest maps, and check out their fascinating exhibits on shore birds, local fauna, and the Native American heritage of the lakeshore. Park staff here are more than just rangers and have the title of "interpretive naturalists" – they are well-versed in the park's incredible natural habitat (⅔ of the park's land is a nature preserve) and offer cost-free daily events like morning bird walks, salamander ganders, and nature scavenger hunts, which are fun and educational for all ages. Check their online park calendar before your visit to see upcoming events and programs.
After getting a lay of the land, head out for a hike on trails winding through the dunes and forests (the dunes slightly inland are older, allowing plants and trees to establish roots, creating a shaded canopy of black oak, beech, and maple trees). The park has over 16 miles of trails, each numbered and well-marked with outings of varying lengths and difficulties, ideal for choosing the hike that best suits your ability and fitness level.
If you're up for a fun physical challenge, try the Three Dune Hiking Challenge, a 1.5-mile loop that starts at the Nature Center and traverses the three highest dunes within the park – you'll begin with Mt. Jackson (176 ft), then Mt. Holden (184 ft), and finish with Mt. Tom (192 ft). In addition to getting an excellent workout, you'll be rewarded with picture-worthy 360-degree panoramas at the top of each dune, with views stretching to Chicago on clear days.
Rare Birds, Beautiful Beaches, and Cocktails With a View
Whether you're a lifelong birder or a hobbyist seeking new birds to add to your list, Indiana Dunes State Park is legendary for its bird biodiversity. Hawks with huge wingspans are a common sight, riding the updrafts coming off Lake Michigan, while various warblers break up long flights by talking rest within the stands of oak and beech trees. Look out for passerines, owls, and tanagers, among many other birds. The park is part of the Indiana Birding Trail, recognized for attracting hundreds of species to its diverse habitat. So, bring your binoculars and marvel at the breadth of birds along the shore.
After working up a sweat hiking and birding on the trails, relax on the sand at Porter Beach and cool down in the calm lake water. Lake Michigan, the second largest Great Lake, has some of the best "beaches," even though it's hundreds of miles from the Atlantic Ocean. Due to its enormous size and tides, you'll likely see small waves lapping on the shore, making it feel like an ocean beach. Water temperatures in midsummer on the southern lakeshore regularly get into the mid-70s, making it a pleasant spot to spend hours swimming.
Wind down a memorable day on the dunes with a specialty cocktail at the Pavilion Restaurant, a charming restaurant dating back to 1930 (a historical landmark) located right next to Porter Beach in the park. Their rooftop bar has live music from 6-9 pm on Fridays, Saturdays, and Sundays, so sip on a delicious drink and catch some tunes overlooking the water as the sun sets.
Book your stay with us and plan your perfect day trip to Indiana Dunes State Park!