Each morning at our Saugatuck bed and breakfast we start your day with a homemade gourmet breakfast delivered directly to your guest room at a time that you choose. Below are a few examples of the many Chef's choice breakfasts we serve.
Croissant with House-made Caramel Sauce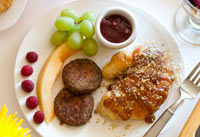 Fresh baked flaky croissants have been a guest favorite at our sister property, the Huron House, for years. Covered with our own signature caramel sauce and crushed walnuts create a mouthwatering breakfast. Served with sausage or thick-cut double-smoked bacon and fresh-cut fruit or a fresh berry yogurt parfait.
Blueberry Pancakes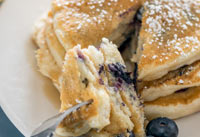 Our light and flaky Blueberry Pancakes are cooked until the crusts are golden brown. Using local Southwest Michigan blueberries, our cakes seem almost too good to be true due to their light and spongy in texture with a rich and tangy flavor. We pair them perfectly with Michigan Maple Syrup and Sausage or thick-cut double-smoked bacon.
Baked French Toast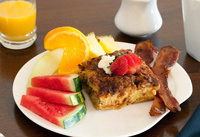 Using local bakery fresh extreme cinnamon bread that is soaked in our special vanilla egg wash is one of our most talked-about culinary classics. Baked to perfection and dusted with a dollop of our special cream cheese and Michigan Maple syrup. Paired with sausage or thick cut double smoked bacon and fresh-cut fruit or a fresh berry yogurt parfait.
Omelets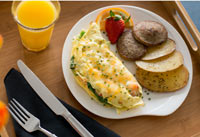 We make our omelets extra fluffy. Our eggylicious creations are served with fresh vegetables, meats, and cheeses and rolled so you can see all of the ingredients from both ends—and taste them in every bite. This breakfast classic will leave you smiling. Plated with fresh cut fruit or fresh berry yogurt parfait.
Eggs Benedict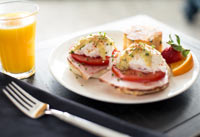 Savor the best part of the day with our ultra comforting Eggs Benedict. Inspired by Chef Charles Ranshoffer, our Eggs Benedict consists of toasted nooks and crannies English muffin halves, smoked ham or salmon, perfectly poached eggs and covered with our signature hollandaise sauce. Served with Potatoes and fresh fruit or yogurt parfait.
DESSERT
Our evening dessert is something to look forward to. Each homemade evening sweet is delivered to your doorstep in the evening. If you crave sweet and decadent confectionary, our masterpieces will satisfy your taste buds.