Discover Saugatuck's Sister City - Douglas, Michigan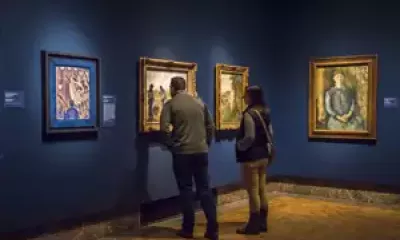 Right where the Kalamazoo River forms a harbor just before emptying into Lake Michigan is where you'll find the twin cities, Saugatuck and Douglas. While Saugatuck is larger and sometimes garners more name recognition, Douglas is equally as charming and inviting. When you stay at the historic Hotel Saugatuck, you're right across the river from Douglas, which has been dubbed "The Village of Friendliness." With a distinction like that, how can you not want to get to know the people and places of this quaint beach town during your next visit to West Michigan?
Douglas was first settled in 1851 as a lumber mill town, but today tourism plays a major role in the city's economy. With over 1.5 miles of Lake Michigan coastline and more than 2 miles of frontage along the winding Kalamazoo River and Lake Kalamazoo Harbor, Douglas is a summer playground for residents and vacationers alike. It might be a beach town, but there's something amazing to discover about Douglas in every season.
Over the years, artists have been drawn to the natural beauty of Douglas and have established art schools, studios and galleries here. As a result, the area has adopted the moniker, The Art Coast of Michigan. When visiting downtown Douglas, you can meander through fine art galleries to view impressive collections of paintings, drawings, sculptures, glassworks and more. Water Street Gallery, Button Gallery, Mr. Miller's Art Emporium, LebenArt Gallery, Mixed Media Gallery and J. Petter Galleries are a few of the well-known galleries that draw regional and national acclaim.
Learn more about the history of the Saugatuck-Douglas area with a stop at the Saugatuck-Douglas History Center, located on Center Street in the Civil War-era Douglas Union School building. This community landmark houses exhibits to teach residents and visitors about the area's rich history and culture. In the neighboring boathouse is a restored 1854 Francis Metallic Surfboat and an exhibit on Great Lakes shipping and shipwrecks, as well as the Back-in-Time Garden. Download the Saugatuck Douglas History Center App to learn more about the history behind the buildings in downtown Douglas.
After taking in the art, history and culture of Douglas, you surely will have worked up an appetite. The Farmhouse Deli & Pantry has delicious breakfast and lunch menu items. Grab a sandwich to go to enjoy on your travels. Sip on a happy hour beverage while you shop at Coastal Society, a super cute boutique and cocktail bar. For a casual vibe, check out the Saugatuck Brewing Co., which, despite its name, is located in Douglas. For chef-driven dinner fare, Borrowed Time and Everyday People Cafe are local favorites.