Experience Fall at Fenn Valley Vineyards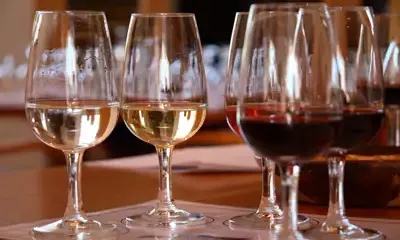 Autumn in Michigan is nothing short of spectacular. The canopy of leaves changes into beautiful shades of reds, yellows and oranges. The crisp air makes for perfect sweater weather. Evening walks along our Lake Michigan beaches end with show-stopping sunsets. It's magical!
This is also the time of year when Michigan's vineyards harvest their crop of grapes to be crushed, pressed, fermented, aged and bottled as the latest vintage of stellar wines. This fall, we invite you to plan a wine weekend getaway with us at The Hotel Saugatuck. Book one of our cozy fireplace rooms just right for fall, then spend an unhurried afternoon sampling award-winning wines along the Lake Michigan Shore Wine Trail. Explore this collection of 15 wineries and four tasting rooms that hug the coastline from Saugatuck south to the state line.
The northern-most winery on the trail is just 12 minutes southeast of The Hotel Saugatuck. Fenn Valley Vineyards and Wine Cellar in nearby Fennville is a 240-acre vineyard and winery complex committed to making world-class wines from Michigan-grown grapes. Whether you're a wine newbie or a connoisseur, there's nothing like getting a behind-the-scenes look at the wine-making process (while tasting along the way) to hone your appreciation and your palate. Fenn Valley offers several tour and tasting options, seven days a week. Choose the extended tour, which takes you through the cellars and out to the vineyards with a ride on their famous "grape trains."
In November, Fenn Valley hosts Winemaker's Dinners to celebrate the fruits of the harvest season. Uncork an exquisite evening that begins with a sparkling wine and cheese reception before moving on to a multi-course dinner where each dish is carefully curated to highlight Fenn Valley's own wines. Throughout this event dining experience, the winemaker and other Fenn Valley staff are available to talk about the wine and theory behind the pairings. It's a night sure to be filled with an abundance of fun, laughter, exceptional wine and phenomenal food.
You don't have to visit the vineyard to get a taste of Fenn Valley wines during your trip. If you're exploring downtown Saugatuck this fall, you can stop in at their intimate tasting room and wine shop at 315 Butler Street. Pop in while you're shopping, belly up to the tasting bar, and their helpful staff will guide you in selecting the perfect wines to take home from your fabulous fall getaway.
"Wine makes daily living easier, less hurried, with fewer tensions and more tolerance." —Benjamin Franklin