Explore Saugatuck's Sand Dunes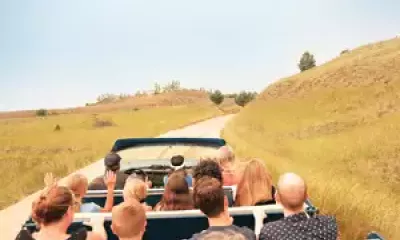 Nestled between the Kalamazoo River and Lake Michigan you'll find one of West Michigan's natural treasures: rolling sand dunes for miles! The Saugatuck Dunes are part of the largest grouping of freshwater dunes in the world. They were formed by glaciers thousands of years ago and sculpted over time by wind, waves and native vegetation. During your next stay with us at The Hotel Saugatuck, we encourage you to explore the gorgeous dune beaches on foot, or take a ride in a dune buggy for an adventure you won't soon forget.
Spanning 2.5 miles of sandy Lake Michigan shoreline and covering more than 1,000 acres is Saugatuck Dunes State Park. The park has four trails totaling 13 round-trip miles that provide lake access. The easiest and most direct path to the water is the 3/4-mile Beach Trail, which takes you over gentle, rolling terrain and offers beautiful views of the forest floor. The longest trek is the South Trail at 2.75 miles. With its steep slopes, this moderately difficult route provides not only a good workout but spectacular scenery and the perfect landscape for bird watching. In the winter, these dune trails provide excellent terrain for snowshoeing and cross-country skiing.
If you've got a need for speed, then you might prefer to explore the dunes with a thrilling ride over the sandy, hilly topography while the wind whips through your hair. Saugatuck Dune Rides takes visitors on fast-paced dune buggy tours to experience Michigan's coastal wonders. The grassy dunes make for exceptional terrain as you tour the shoreline on an exciting 40-minute excursion. (Pro tip: Forward seats have less "bounce" than those at the rear of the jeep.)
In addition to sightseeing, there are stops along the way where the knowledgeable guides will teach you about local vegetation and wildlife, as well as a little history about the area. For instance, you'll learn of the lost town of Singapore, which was buried under the sand after logging destabilized the dunes. Catch a ride with Saugatuck Dune Rides and see why this has been a favorite summertime attraction since 1954.
"Those dunes are to the Midwest what the Grand Canyon is to Arizona and the Yosemite to California. They constitute a signature of time and eternity. Once lost, the loss would be irrevocable." —Carl Sandburg