Explore Saugatuck's Winter Exhibits and Art Galleries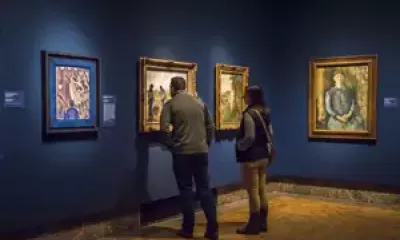 Saugatuck's art scene is vibrant any time of year, even in the hush of winter when our lakeshore community enjoys a peaceful break from the buzz of summer crowds. For more than a century, art has been part of the culture of the region, appropriately dubbed "The Art Coast of Michigan." The area's creative roots date back 100 years to when The Art Institute of Chicago established its Ox-Bow School here to inspire and educate genuine artists. Today, art studios and galleries line our downtown streets, inviting us in to be inspired by the creativity, passion and talent on display.
The picturesque downtown districts of both Saugatuck and Douglas provide a charming backdrop as you leisurely wander from one unique gallery to the next. You'll find a wide variety of artwork from local, regional and national artists spanning mediums that range from contemporary paintings and found-material sculptures to hand-blown glass and pottery. Admire their latest art installations and shop the beautiful and diverse works. You may just find a creative treasure to take home!
Inside Saugatuck's fine art galleries, view impressive collections of paintings, drawings, sculptures, glassworks and more. Be sure to check out Roan and Black, Amazwi Contemporary Art, Armstrong De Graaf International Fine Art, James Brandess Studios & Gallery, and Jeff Blandford Gallery – just to name a few. In neighboring Douglas, there's still more art to explore. Water Street Gallery, Button Gallery, Mr. Miller's Art Emporium, LebenArt Gallery, Mixed Media Gallery and J. Petter Galleries are some of the well-known galleries that draw regional and national acclaim.
Another way to explore the visual arts in Saugatuck this winter is with a visit to the Saugatuck Center for the Arts. The exhibitions in SCA's gallery space are ever-changing, so stop in often to discover the latest artists' featured works. On display through Jan. 27, 2023, is an exhibit by Mary Costello titled, "Fertile Futures." Through the symbolic lens of agriculture, Molly's illustrations help expand our sense of self so that we may commit to building a more free and fertile world. Also featured through the end of the month is a photography/print-making series titled, "Ubuntu: I Am Because We Are." This exhibit is a collaboration between CultureWorks Student Advisory Council + I Am Academy of Holland, Michigan, on exploring black heroes.
"Art is not what you see, but what you make others see." – Edgar Degas