Fall Fruit Picking at Crane Orchards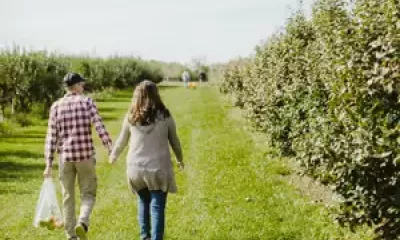 Apples, peaches, pumpkin pie. Ready or not, fall harvest season is here! There's no better way to get a mouth-watering taste of nature's bounty than to pick tree-ripened fruit yourself. When you stay with us at The Hotel Saugatuck, head to Crane Orchards in nearby Fennville for a hands-on orchard experience. There's nothing quite as tasty as picking your favorite fresh fruit straight from the tree and immediately enjoying the fruits of your labor.
At Crane Orchards, each season brings a new farm harvest – cherries, peaches, apples and pumpkins – all offered at the peak of flavor and nutrition. Right now, as summer comes to a close, the last of the freestone peaches are ready to be plucked, including Allstar, Loring, Bounty, Contender and Blushing Star varieties. Early apples are ready, too! Pick Ginger Gold, Dandy Red and Premier Honeycrisp apples right from the tree. Labor Day weekend is the official start of apple picking season, which goes well into October.
First planted in the 1880s, the fruit farm was purchased by the Crane family in 1917, and is now into its sixth generation of Crane family farmers. ​In addition to Crane Orchards, members of the extended family own Gary Crane Farm across the street and Crane's Pie Pantry Restaurant and Winery next door, both of which are separately owned and worth a visit while you're in Fennsville. Of note, Crane's Pie Pantry is celebrating its 50th year in business on September 10 with CiderFest.
After you're done picking apples, get lost in the 20-acre corn maze with a different challenging design every year. There are two phases in the maze, and each phase takes about 30 minutes to complete. Also, tractor-driven hayrides around the farm, orchards and woods are available for folks to enjoy on the weekends in the fall.
When visiting Crane Orchards, take a moment to appreciate the breathtaking views of the orchards and the home-grown experience that will only bring you closer to nature and all that West Michigan has to offer.
Crane Orchards
6054 124th Ave.
Fennville MI 49408
269-561-8651