Fall in Love with Saugatuck's Most Romantic Restaurants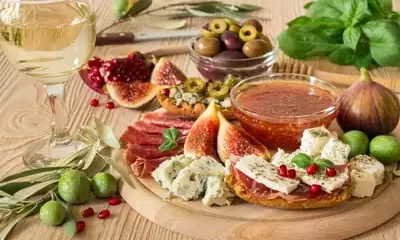 Saugatuck, Michigan is a charming town that boasts beautiful beaches, art galleries and unique shops. It is also home to some of the most romantic restaurants that offer a memorable dining experience you and your loved one won't want to miss. Here are a few of the romantic restaurants in and near Saugatuck that we recommend to our guests at The Hotel Saugatuck, whether you're looking to celebrate Valentine's Day, a birthday or anniversary, or just want to enjoy a date night and make new memories together.
Bowdie's Chop House │ 230 Culver St., Saugatuck, MI
Bowdie's Chop House is a rustic yet elegant steakhouse that offers a quaint and cozy atmosphere. In addition to serving the highest quality prime steaks, Bowdie's menu includes fresh seafood and chicken dishes, as well as soups, salads and starters. Bowdie's also features an extensive wine and cocktail list, which is perfect for toasting to your love. The dark wood accents and soft lighting create a comfortable and intimate ambiance, making this restaurant an excellent choice for a date night.
Coast 236 │ 236 Culver St., Saugatuck, MI
At Coast 236, you'll find approachable fine dining with a relaxed vibe. This trendy bistro specializes in contemporary American cuisine with locally and sustainably sourced ingredients from land and sea. Coast 236 offers a creative menu with a variety of small plates, entrees, and specialty cocktails that are sure to impress your significant other. This restaurant is perfect for couples who enjoy trying new dishes and experimenting with unique flavors.
Salt of the Earth │ 114 E. Main St., Fennville
Salt of the Earth is a farm-to-table restaurant that offers locally sourced ingredients and seasonally inspired dishes. This restaurant is a must-visit for couples who appreciate fine dining and knowing where their food comes from. The warm and inviting atmosphere and stunning presentation of the rustic dishes make this restaurant a perfect choice for a romantic evening. With a focus on sustainability and farm-to-table practices, Salt of the Earth is an ideal place to enjoy a memorable meal with your loved one.
Borrowed Time │ 22 Center St., Douglas, MI
Borrowed Time is a charming restaurant that features a chef-driven small plate dining experience. Select two or three inventive dishes per person, such as lobster gnocchi, seared pork belly and mushroom tostada, to enjoy a variety of flavors. This restaurant is known for its cozy atmosphere and creative cocktails, making it an excellent spot for a romantic date. The intimate dining room and outdoor patio area provide the perfect backdrop for an evening of good food, good drinks and good company.
Coastal Society │ 35 Center St., Douglas, MI
Try something completely different for your date night by reserving a private heated igloo suite at Coastal Society. Each cozy igloo is beautifully styled with comfortable seating, coffee tables, blankets, pillows and twinkly lights for the perfect enchanting ambiance. Enjoy craft cocktails along with tapas and artisanal pizzas for a unique and intimate outdoor dining experience.
Whether you're looking for an upscale restaurant or a more casual spot, the Saugatuck area has no shortage of romantic restaurants for a night out on the town. Be sure to make a reservation for dinner for two at one of these favorite romantic restaurants when you plan your next romantic getaway at The Hotel Saugatuck.