Farmers Market at Saugatuck Center for the Arts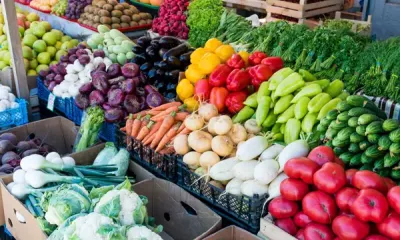 There's nothing like a farmers market in the summertime to connect a community with its local farmers and artisans. They're a great place to quite literally get a "taste" of the region with a incredible selection of farm-fresh products. During your summer getaway to western Michigan, we invite you to immerse yourself in our agricultural bounty with a visit to The Market at Saugatuck Center for the Arts.
The Market at SCA runs Tuesdays from 10 a.m. to 2 p.m. and Fridays from 9 a.m. to 3 p.m. from Memorial Day weekend through the end of September. Each week, dozens of vendors come to the market to share their harvest and their craft. The list of vendor offerings is impressive and ever-changing, based on what's in season: fruits, vegetables, eggs, cheese, meats, honey, baked goods, maple syrup, small-batch coffees, flowers, healthy snacks, gluten-free and vegan items, and even dog treats. You'll get a real hometown feeling knowing that everything the vendors sell comes straight from their farms, gardens and kitchens to you.
In addition to a wide variety of locally produced food, you'll find artisan goods such as handcrafted candles, lotions and soaps, jewelry, and fine art. You're bound to uncover an incredible selection of Michigan-made of products when you shop this seasonal market. It's one of the best ways to enjoy homegrown and homemade foods while supporting the regional economy and helping our farm-to-table businesses and local craftspeople thrive.
The Market at SCA elevates your farmers market experience with live music on the outdoor plaza stage, adding to the ambiance as you stroll from booth to booth. There's also food to go from local vendors and a cash bar featuring artisan cocktails, wine, craft beer and ciders. For the most up-to-date information about happenings at The Market at SCA, visit their Facebook page.
The Market at SCA
400 Culver St.
Saugatuck, MI 49453
269-857-2399