Find Timeless Treasures in Allegan County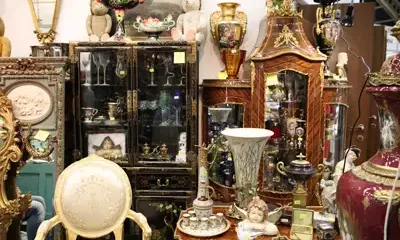 With its rich history in agriculture, manufacturing, culture and craftsmanship, it's no wonder Michigan is a gold mine when it comes to antiquing. Treasure hunters can peruse a multitude of antique shops throughout Allegan County along Michigan's western coast to uncover unique vintage finds. New-to-you pieces can invigorate your home space while carrying the memory of your antiquing adventure during your next West Michigan getaway.
In downtown Saugatuck, explore the local antique shops that are minutes away from The Hotel Saugatuck and exude the quaint charm of our beach town. Country Store Antiques on Butler Street has been in business since 1953 in the same location, serving three generations of families. Swell Times on Water Street celebrates all things vintage and carries nostalgic collectibles.
Cross Kalamazoo Lake to the south on the Blue Star Highway for the next stops on your antiquing trip. Upscale Mercantile is just a minute away from our historic inn in the neighboring city of Douglas and offers a more curated atmosphere of vintage, mid-century modern and antique items. Further down the road, you won't be able to miss the 24,000-square-foot Saugatuck Antique Pavilion. The facility is home to 175 dealer booths and is notably connected to the Saugatuck Brewing Company, a great option for food if you're hungry and need to refuel your energy.
The corner of Blue Star Highway and M-89 provides another treasure trove at Birdcage Antiques in Fennville. Then follow M-89 to the east to find the eclectic Featherstone Antiques, featuring Native American, farmhouse and handmade items. The store also offers an online catalog for shipping directly to your home, which is helpful when your car is already filled with one-of-a-kind finds.
If you plan your shopping adventure during the last Sunday of the month (May through September), be sure to journey to the fairgrounds to experience Michigan's largest antique show. Just a half-hour away, the Allegan Antiques Market hosts a whopping 400 dealers with every imaginable kind of antique. Admission is $5 with free parking and food services on site.
Antiquing together might just become a new passion and an annual tradition, creating a new perspective for your home and evoking new respect for each other's adventurous side.