A Frank Lloyd Wright Masterpiece in Grand Rapids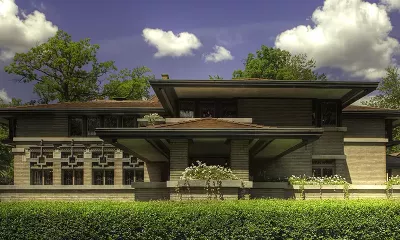 You may be familiar with Frank Lloyd Wright, considered the greatest American architect of all time. Over a creative period of 70 years, he designed more than 1,000 structures. His first major commission here in Michigan was the Meyer May House in Grand Rapids. And it makes a great side trip while you're visiting us in Saugatuck, with an easy 45-minute drive to see one of Wright's architectural masterpieces.
Wright designed the two-story, T-plan house in 1908 for Meyer May, a prominent Grand Rapids clothier, and his wife, Sophie. Its architectural style is considered Prairie School, a design movement of the late 19th and early 20th century, most common in the Midwest, of which Wright was a pioneer. As with other Prairie homes, it was designed to allow a large amount of southern light exposure. The style's horizontal lines were thought to relate to the wide, flat treeless expanses of America's native prairie landscape.
In its Victorian neighborhood in the Grand Rapids Heritage Hill district, the Meyer May House defied convention. May lived in the house until his death in 1936, and in the years following it underwent some structural changes by subsequent owners. After being purchased in 1985 by Steelcase Inc., it was meticulously rebuilt and restored to highlight its original cantilevered roof design, a Niedecken mural, and 100 art glass windows and skylights. In addition, the home includes both original and replica furnishings, including carpets woven from Wright's specifications.
Opened to the public in 1987, the Meyer May House provides the rare opportunity to experience a Prairie School house exactly as Frank Lloyd Wright intended. There is no charge to tour the home, but online reservations are required for admission.
Meyer May House
450 Madison Avenue SE
Grand Rapids, MI 49503
616-246-4821