Frederik Meijer Gardens and Sculpture Park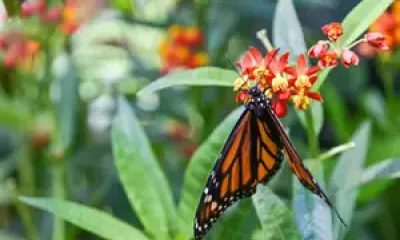 One of the most visited art museums in the world can be found in Grand Rapids, Michigan – a 40-minute drive from Saugatuck that's well worth the trip. The Frederik Meijer Gardens and Sculpture Park combines the experience of stunning gardens with fine art. The 158-acre grounds feature Michigan's largest tropical conservatory, five indoor theme gardens, extensive outdoor gardens, nature trails, a sculpture park and a 1,900-seat outdoor amphitheater. It's truly a Michigan must-see!
Within its five-story 15,000-square-foot facility, the Lena Meijer Tropical Conservatory boasts more than 500 species of exotic tropical plants from five continents. There are rock landscapes, a waterfall and an orchid wall among the conservatory's many highlights. The Richard and Helen DeVos Japanese Garden is one of the newer additions to Meijer Gardens. The garden encompasses 8 acres of simplicity and tranquility where visitors can enjoy the combination of Japanese-inspired horticulture and sculpture.
The outdoor gardens feature four-season plantings that can be enjoyed throughout the year. The Wege Nature Trail winds through the forest, while the Frey Boardwalk takes visitors through the natural wetlands. Featured on these walks are bird watching sites, a tadpole pond, and vistas of woodlands and wetlands.
The sculpture program at Meijer Gardens features more than 200 works in the permanent collection, including notable works by Alexander Calder, Edgar Degas, Auguste Rodin. Works are presented in indoor settings like the conservatory, as well as outdoors across the vast gardens. The 30-acre Sculpture Park holds one of the most comprehensive collections of outdoor sculpture in the world. Guests can take a guided tram ride through the sculpture park.
If you're visiting between June and September, Meijer Gardens brings an eclectic mix of world-renowned musicians to West Michigan with its Summer Concerts. Concert-goers will enjoy music of all genres in beautiful, terraced lawn seating with spectacular views of gardens and sculptures.
Experience masterpieces of art and nature that will delight your senses at one of the nation's premier horticultural and sculptural displays. A visit to Frederik Meijer Gardens and Sculpture Park makes a great day trip while you're staying with us at The Hotel Saugatuck.
Frederik Meijer Gardens and Sculpture Park
1000 E. Beltline Ave. NE
Grand Rapids, MI 49525
1-888-957-1580