Guests Receive Special Discount for Private Lake Michigan Sailing Excursion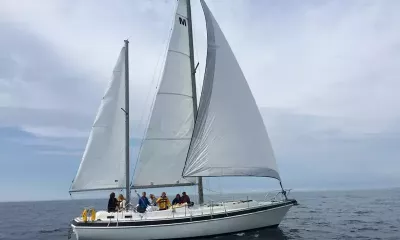 At The Hotel Saugatuck, we enjoy providing our guests with access to fun activities and unique adventures when they come to stay with us. We also are committed to supporting our fellow local businesses that take care of each other in this small community. That's why we're excited to enter a new partnership that is beneficial to us, our guests and the partnered business – a real win-win all around!
Sailing along the Saugatuck-Douglas Lake Michigan shoreline is something magnificent to experience. The miles of sugar-sand beaches and 200-foot sand dunes are breathtaking when viewed from the water. Captain Al at Sailing on Desire has been sailing these waters for more than 25 years, and through our new partnership, he's offering an incredible discount for our guests who book a private sailing excursion.
Aboard his 41-foot sailboat, Captain All takes passengers on private, three-hour sailing excursions along the south-west Michigan coastline. The journey takes you into Kalamazoo Lake and through downtown Saugatuck. As the trip continues along the Kalamazoo River and into Lake Michigan, Captain Al's crew will raise the main sail as Desire makes her way out of the channel. When you reach the pier heads, the Genoa sail is unfurled and the engine is turned off. Your sailing adventure continues as you are taken away by the winds and waves of Lake Michigan.
Sit back and relax and enjoy the sun. You can lounge on the deck or take the wheel and steer the boat. Water, sun, wind and unbelievable scenery will give you an experience you will never forget. It's the perfect way to celebrate a birthday, anniversary, engagements or other special moment in your life. Of course, you don't need a special reason to board the Desire for a few hours of summer fun. Guests of The Hotel Saugatuck will receive $50 off the price of a private charter with Captain Al during the May-September sailing season – that's a 20% savings.
Partnering with Sailing on Desire allows us to refer our guests to someone who is trusted and provides a quality service that we know our guests will enjoy! In the summer, our guests are always looking for suggestions on what to do and enjoy during their visits. It can be overwhelming to look around and see so many options. We're happy to steer our guests in the direction of Captain Al for an incredible sailing adventure. As always, our goal is for our guests to have the best stay possible, even if it's outside of our doors.
"Life is like sailing. You can use any wind to go in any direction." — Robert Brault