Hauntings and History at Felt Mansion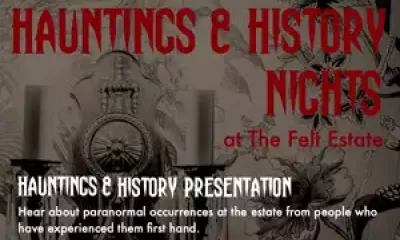 Nestled in the dunes along Lake Michigan between Saugatuck and Holland is the majestic Felt Mansion. Once the luxurious summer home of self-made millionaire and inventor Dorr E. Felt, this expansive estate is a hidden gem of West Michigan history. The mansion is said to be haunted by the ghost of Dorr's wife, Agnes, who died just six weeks after moving into the home in 1928. See for yourself if the ghostly legends are true at Felt Mansion's upcoming Hauntings and History Nights on October 28-30.
At the Hauntings and History Nights, visitors can explore the mansion, carriage house and grounds in the dark of night, guided only by candlelight, and gain access to parts of the estate normally restricted to the public. Along the tour you'll learn about the architectural and historical details of the estate and about paranormal occurrences from people who have experienced them first hand. You're even welcome to do a little ghosting hunting of your own – just bring your own electromagnetic field detector and infrared thermometer.
It's believed Agnes Felt's ghost still lives on in the mansion because she died so soon after its completion and never could enjoy her beautiful summer estate in her lifetime. A few years back, the West Michigan Ghost Hunters Society conducted paranormal investigations at the mansion to determine if it was indeed haunted. Their data shows evidence of ghostly activity and sightings in the library, ballroom and Agnes Felt's bedroom.
In addition to serving as the summer playground for several generations of the Felt family, Felt Mansion also has been a boys school, a convent and a prison over the last 100 years. Left abandoned for many years, the mansion found new life in the 21st century. After extensive preservation efforts, the mansion and grounds have been restored to their 1920s grandeur. When you stay with us at The Hotel Saugatuck, you can be at the Felt Mansion in under 10 minutes. The estate is open for spring and summer self-guided tours, year-round special events that include a summer concert series and a Christmas tour, and wedding and conference rentals.
Felt Mansion
6597 138th Ave.
Holland, MI 49423