Hit the Slopes at West Michigan's Premier Ski Area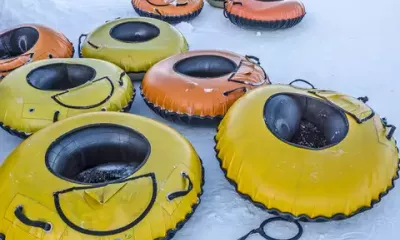 Whether you like to swoosh down double black diamonds or prefer a leisurely glide down the bunny hills, you'll find the perfect terrain for your skill level at Cannonsburg Ski Area. This premier West Michigan ski and snowboard destination is located in Belmont, Michigan, less than an hour northeast of The Hotel Saugatuck. So during your next winter stay with us, make plans to take advantage of Mother Nature's white blanket of snow and enjoy an outdoor adventure only winter can offer.
Established in 1965, Cannonsburg Ski Area has been providing outdoor recreation opportunities for generations of guests. They have 21 trails with a mix of beginner, intermediate and advanced runs. Nine lifts will get you to the top of these slopes to start your exhilarating downhill journey. If you're a beginning skier or snowboarder, schedule a lesson with one of their experienced instructors. For the more advanced, check out Cannonsburg's terrain park, ranked as one of the best in the Midwest, according to Transworld Snowboarding.
If you want a downhill experience without balancing on skis or a board, try snowtubing. Cannonsburg has the largest snowtubing facility in the state. Similar to sledding, riders hop on an inflatable inner tube for a ride down the well-groomed paths. When it is below freezing and the snow is packed down, the lanes get fast! The tubing lanes are serviced by a state-of-the art magic carpet ride that carries you up the hill and allows maximum trips down. Due to popularity, online reservations are required to book your two-hour snowtubing outing.
Cannonsburg has even more ways to get outside and play in the snow. Their 11 miles of winter trails are a great way to further enjoy the beauty of Michigan winters. The groomed trails are open for fat biking, cross-country skiing and snowshoeing, with bikes and gear available for rent. And be sure to check out Snowshoes and Brews on Monday evenings!
Another fun event coming up this season at Cannonsburg is Sipping on the Slopes. This flavorful event features a wine tasting of carefully selected vintages, where each selection is beautifully paired with tasty hors d'oeuvres. To make this special event more intimate, ask about reserving one of the four heated wine-gloos.
Whether you are a skier, snowboarder or just like being outside in Michigan's winter wonderland, Cannonsburg offers something for everyone!