Holiday Market at the Saugatuck Center for the Arts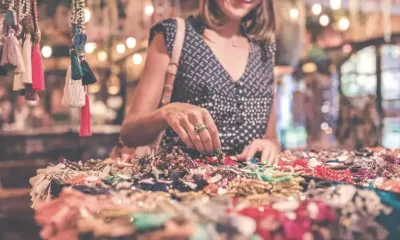 Celebrate the holidays with the Saugatuck community at the Holiday Market located at Saugatuck Center for the Arts on Saturday, November 30th from 9:00 AM to 2:00 PM. The market features thirty vendors selling a variety of products that are perfect to take home as holiday gifts, decorate your home with, or to commemorate your time spent here in Saugatuck this season.
The Holiday Market also will be selling Christmas trees for the first time, as well as artisan-made wreaths, jams, spices, baked goods, jewelry, ceramics, clothing, and much more. Winter clothing and headgear will also be available for purchase. Visitors can grab a specialty cocktail or drink at the bar and each guest to the market will have the opportunity to win a door prize from a local vendor and donate to the Saugatuck Center for the Arts' Wishing Tree, benefitting Kids' Food Basket.
While you're there, view the never-before-seen body of custom fiberglass and resin artwork by Tim Folkert, titled "Flow". These unique panels with custom frames were inspired by the experience of surfing in Santa Cruz, California as well as the outdoors and lore of the Great Lakes. The art unmistakably is connected with water and the outdoors, with bright colors and smooth lines that will brighten up any wall back home. The month-long pop-up show concludes December 20th. To get more information about the exhibit or to browse Tim Folkert's pieces that are available for purchase, visit the SCA website.
For more information on the Holiday Market on November 30th at the Saugatuck Center for the Arts, visit the website and plan your trip today!
Saugatuck Center for the Arts
400 Culver Street PO Box 940
Saugatuck, MI 49453
269.857.2399