Holiday Shopping Along Butler Street in Saugatuck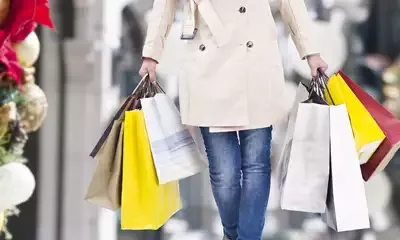 You've made your list and checked it twice. Now you're ready to do some holiday shopping! Forget Amazon or the mall. Instead, explore the unique retail shops and boutiques along one of the main thoroughfares in downtown Saugatuck – Butler Street – where you'll find distinctive gifts for everyone in every price range... and maybe even a little something for yourself.
During your getaway at The Hotel Saugatuck this holiday season, we encourage you to shop local. Take a leisurely stroll down Butler Street and enjoy a relaxed shopping experience with friendly, knowledgeable shopkeepers ready to assist. It's the kind of stress-free experience we all need during the holidays, right? Within a few short blocks, you'll find everything from fine art and antiques to gourmet foods to home decor and one-of-a-kind gifts.
It would take days to tell you about all of the eclectic shops along Butler Street. You can find an all-inclusive directory of downtown Saugatuck shops here. But we can give you a glimpse at some of the amazing shopping to be had.
Saugatuck is the heart of the Art Coast of Michigan, so you'll definitely want to peruse the studios and galleries that showcase the incredible, inspiring work of our resident artists. Along Butler Street, you'll find James Brandess Studios & Gallery, the Saugatuck Gallery, and Jeffrey Blandford Gallery. Find wearable art in the form of beautifully crafted jewelry at Art Glass Alcove and Blue Wildwood Jewelry Boutique.
The foodies on your list will appreciate a gift of Michigan-made goodies and other tasty treats from The Olive Mill, American Spoon and The Butler Pantry. Find the latest trend-setting styles in fashion at Gina's Boutique, Articles Boutique and Glik's and classic, casual sportswear at Saugatuck Traders, The Brass Anchor Co. and Landsharks.
Still need inspiration for that hard-to-buy-for friend or relative? The specialty gift shops along Butler Street provide carefully curated collections of unique treasures. For handmade bath and body products, check out 42N Naturals. Sea Bags of Saugatuck has tote bags made from recycled sails, as well as other home accessories. Santa Fe Trading Co. is the best Southwest lifestyle store in the Midwest, specializing in Native American jewelry, gifts and decor. For even more whimsical gifts plus fun and festive home accessories, check out The Owl House and It Is What It Is.
Come see why Butler Street in downtown Saugatuck is THE place to shop this holiday season. With so many delightful options, you're sure to find the perfect gifts for under the tree this Christmas, and maybe even a little something for Santa.