Ice Volcanoes and Ice Balls at Oval Beach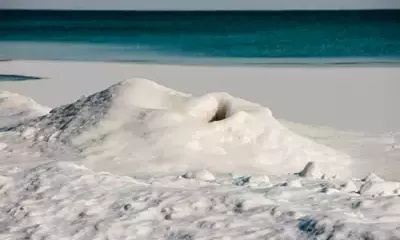 While Oval Beach is Saugatuck's premier destination for summer sun and sand, don't pass up a chance to view frosty Lake Michigan from its shoreline in the winter months. You might just get to observe some of Mother Nature's most amazing winter weather phenomena.
"Ice volcanoes" have been spotted at Oval Beach. They're not erupting mountains of molten lava as the name might suggest. They are formed when waves beneath the Lake Michigan surface ice sheet build up enough pressure to puncture a hole in the ice shelf and force an eruption of spray, ice and slush. The spouting water freezes upward in a cone-shaped mound of ice, creating what looks like a volcano. Don't be tempted to explore ice volcanoes up close, as they are hollow and can be dangerous to climb on.
Ice volcanoes aren't the only strange winter weather sighting at Oval Beach. A rare natural occurrence known as "ice balls" have been known to form when freezing temperatures cause a layer of floating slush to be sculpted into ice spheres by forceful waves. These balls of ice – from the size of a baseball to a bowling ball and even bigger – then wash up on the beach by the thousands and freeze solid.
Even if you aren't lucky enough to catch a glimpse of these unusual weather wonders at Oval Beach, the peaceful and impressive view of Lake Michigan in all its winter splendor is worth the trip itself. While you're there, take the opportunity to snowshoe or hike through the dunes and trails. Witnessing what Mother Nature can create – from the ordinary to the extraordinary – is awe-inspiring.
"Winter is a season that sparkles with magic and transforms our ordinary world into a glittering kingdom." –Abi Elphinstone