It's Tulip Time in Holland, Michigan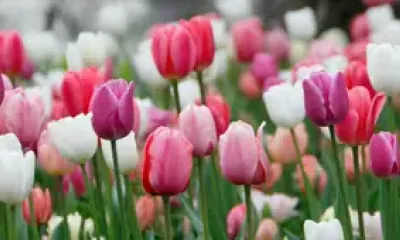 You don't have to travel to the Netherlands to immerse yourself in tulips, windmills and Dutch culture. You'll find all that and more with a visit to Holland, Michigan. Spring is the perfect time to make the trip, when all the tulips are in bloom and the city is awash in glorious, vibrant color. Holland's annual Tulip Time Festival gives visitors eight days of events and activities where they can take in the floral sights and celebrate the community's Dutch roots.
Now in its 93rd year, the 2023 Tulip Time Festival runs from May 6-14. Exhibits and entertainment are spread throughout a 4-mile radius of downtown Holland. The big draw, of course, are the tulips, which can be seen for no charge along downtown streets, in the historic district neighborhoods, and in public parks such as Centennial Park and Window on the Waterfront Park. See even more of these colorful spring beauties when you visit some of Holland's Dutch heritage attractions, including Windmill Island Gardens, Nelis' Dutch Village and Veldheer Tulip Farm. All told, there are more than six million brightly colored tulips to be seen!
Be sure to check out the Tulip Immersion Garden designed by world-renowned Dutch horticulturist, Ibo Gülsen. His installation of 50,000 tulips of all varieties and colors tells the history of the flower from Turkey to the Netherlands to Holland, Michigan! Walking tours are available for those seeking a knowledgeable guide to all the blooming displays and Holland's history.
There's more to the Tulip Time Festival than just tip-toeing through the tulips. One of the festival's most entertaining and colorful spectacles is the Dutch Dance, where authentically costumed dancers klomp and whirl their way through traditional dances. There's a Carnival Midway with thrilling rides, food and games, and an Artisan Market with 240 juried craftspeople showcasing their original, handmade works.
Everyone loves a parade, and the Tulip Time Festival has two! The Kinderparade on May 12 is a time-honored tradition where school children in full costume march together through downtown Holland. The Volksparade won't disappoint as it strolls down 8th Street on May 14. Dozens of marching bands from throughout West Michigan will be joined by community floats and entertaining specialty entries. Capping off the week-long festival will be a spectacular fireworks show that lights up the night sky over Kollen Park and Lake Macatawa.
A short 15-minute drive makes The Hotel Saugatuck the perfect place to stay when you come see for yourself why Tulip Time has been lauded as the nation's Best Flower Festival and America's Best Small Town Festival.