Love Abounds at West Michigan's Pride Festivals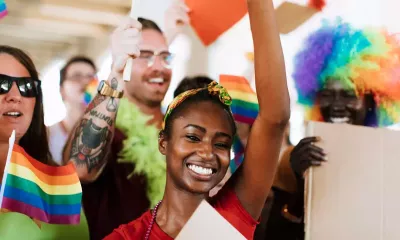 The neighboring coastal towns of Saugatuck and Douglas along the shores of Lake Michigan are well-known as LGBTQ-affirming vacation destinations. Our vibrant art scene, charming downtowns and beautiful beaches all complemented by a welcoming atmosphere draw travelers looking for a safe, inclusive place for fun and relaxation. Each June, that inclusive spirit is celebrated in communities all over West Michigan, including Saugatuck and Douglas, during Pride Month with parades, festivals, drag shows, music and more. Come for the Pride festivities and stay with us at The Hotel Saugatuck, where everyone is welcome.
There's a Pride festival every weekend in June, and one in August, all within a 45-minute drive or less from The Hotel Saugatuck. These events offer a unique blend of joy, empowerment and cultural expression that is sure to captivate the hearts of locals and visitors alike.
Saugatuck-Douglas Pride in the Park
Pride in the Park is the showcase event of a multi-day celebration of love and acceptance. Set for June 3, 2023, the festivities start with a colorful Care-A-Van parade of decorated cars and antique vehicles that promenades from Saugatuck High School to the main event at Berry Field in Douglas. Dance the day away to great music provided by DJs and live bands, with headlining act Tom Sandoval and The Most Extras. Enjoy barbecue and a beverage or two while you mix and mingle during this jubilant display of support and love.
Grand Haven Pride Festival
2023 is the inaugural year for the Grand Haven Pride Festival. Head to Waterfront Stadium on June 10 for an unforgettable party atmosphere where people can celebrate their identities freely. Grab food and drinks from one of the food trucks onsite as you enjoy live music, drag shows and drag bingo. There will be a kids zone and an adult friendship connection area. The entire festival is volunteer-led and serves as a powerful reminder that embracing diversity and celebrating differences can create a more inclusive and vibrant society for all.
Grand Rapids Pride Festival
Over the last 35 years, the Grand Rapids Pride Festival has grown to become one of the city's largest single-day events. On June 17, 2023, thousands of LGBTQ+ community members and their allies will converge on Calder Plaza, where diversity and inclusion take center stage. The admission-free festival will offer 100+ vendors, a beer garden, entertainment on multiple stages, family and children's activities, food trucks, local artists, a sensory space, and teen/youth activities. Most of all, the Grand Rapids Pride Festival creates a safe and welcoming space for people to connect, socialize and celebrate.
Holland Pride Festival
The city of Holland, Michigan, will roll out the rainbow-colored carpet on June 24, 2023, for its 20th Pride Festival. LGBTQ+ individuals, allies, families and friends will come together at Centennial Park to share their vision for a world where everyone is celebrated for who they are. There will be music and dancing, food trucks, yard games, rainbow yoga, belly dancing, an LGBTQ+ market, and so much more. Proceeds from the Pride festival support Out on the Lakeshore, which provides education and support for the LGBTQ+ community and its allies.
Allegan Out Loud
Capitalizing on the success of its landmark debut, Allegan's second annual Pride festival, Allegan Out Loud, will be held Aug. 5, 2023, at Riverfront Park. There will be live music, drag queen storytime and an all-ages drag show. Vendors will be selling crafts, jewelry, apparel and plenty of rainbow-themed merchandise, not to mention delicious food and beverages. Everyone is invited to this free event where love knows no bounds and unity reigns supreme.