Love is in the Air at Romantic Hotel Saugatuck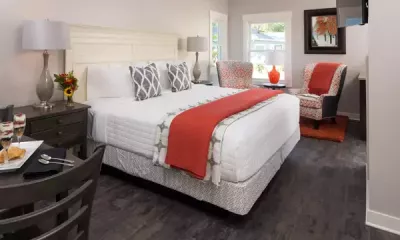 Stay in a unique historic room, each with a fireplace, hydrotherapy tub and room service, as well as offerings to celebrate this holiday of love. Add that finishing touch of flowers, champagne and chocolate covered strawberries to honor your special love.
Featured in Forbes, The Hotel Saugatuck is one of the 25 best international destinations for transformational travel. Wrap your loved one in small-town charm that is Saugatuck with its warmly lit specialty, antique and wine shops, microbreweries, boutique restaurants and art galleries.
Enjoy a modern take on the old English tradition of wassailing and watch the apple tree blessing for a bountiful harvest, take a horse-drawn sleigh ride, attend an after-dark orchard tour and warm-up by a bonfire at the 5th annual Wassail event at Virtue Cider on February 15, noon to 8:00 p.m.
On February 13th, celebrate an annual event, "Galentine's Day" with your special someone by enjoying a Beer, Cheese, & Chocolate Pairing class at the Guardian Brewing Company where you will learn to pair three cheeses and three chocolates with six unique Guardian beers. This event will be "part education and part entertainment and decadence".
Afterward, screen the The innkeepers at The Hotel Saugatuck are ready to assist you in making this your most memorable Valentine's documentary, "Making Waves" at the Saugatuck Center for the Arts at 7:00 p.m. "This film speaks to the great maestros of movie sound, such as Walter Murch, Ben Burtt, Kysten Mate and Victoria Rose Sampson who, with great frankness and amazing modesty, talk about their extremely difficult work." The film features insights and stories of iconic directors such as George Lucas, Steven Spielberg, David Lynch, Barbra Streisand, Ang Lee, Sofia Coppola and Ryan Coogler.
To learn more about our special packages and to book your romantic getaway, please visit The Hotel Saugatuck website.
Long live love.