A Michigan Getaway To Help You Rest and Recharge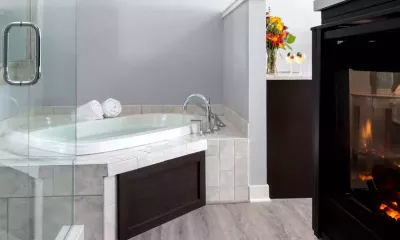 Not every vacation has to be packed with adventure. It's OK for couples to escape the hustle and bustle of everyday life to focus on relaxation and rejuvenation. Paying attention to your own health and well-being can strengthen relationships, improve productivity and simply boost your overall happiness.
Start with a stay at The Hotel Saugatuck. Here you can relax in an environment where there are no demands while taking in the breathtaking views of Kalamazoo Lake. Our well-appointed guest rooms provide every amenity you need for a stress-free getaway: comfortable king beds, hydrotherapy tubs, Turkish towels, candles, and gourmet breakfast and dessert. Leave your cares at the door and let us provide you the ultimate in service.
Looking for more ways to unwind?
Try halotherapy, or salt therapy: Massa Body in Saugatuck offers a detoxification treatment in a Himalayan salt cave. Studies show that salt therapy may be beneficial for your overall immune and respiratory systems, as well as a number of skin issues such as eczema, psoriasis and acne. During your 45-minute session, lean back in a zero-gravity chair and feel the healing powers of the cave bringing purification and balance with every breath you take. Massa Body also offers numerous spa services, including hot stone massages, body scrubs and wraps, steam treatments and more.
Book a private yoga session: Inhale, exhale. For couples interested in finding stress relief through meditation, consider scheduling a private yoga session for you and your partner at Satya Yoga. Located in Saugatuck, Satya Yoga provides breath-centered classes individualized for your skill and needs. As a beginner, you can learn and explore correct foundation and alignment in common yoga poses and the therapeutic effects of yoga and breathing. More advanced yoga students can get personalized attention to refine their yoga and meditation practice.
Massa Body
3217 Blue Star Highway
Saugatuck, MI 49408
269-857-5773
Satya Yog
439 Butler St.
Saugatuck, MI 49453
269-857-7289
"He who has health has hope, and he who has everything." -Arabian proverb