Mountainfilm on Tour in Saugatuck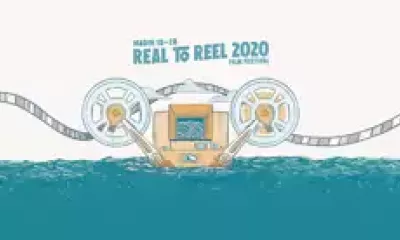 Our region is renowned as the Art Coast of Michigan and we invite you to celebrate, explore and enjoy the two-day Real to Reel 2020 Film Festival at the Saugatuck Center for the Arts on March 27 and 28. Held annually since 1979, the festival includes weekend-long exhibition openings, exclusive artist talks and demonstrations, live music, pop-up shopping, local food, craft brews, and parties.
On Friday, March 27th, the art exhibitions open and the pre-party begin at 5:00 pm with outdoor fire pits and local food and craft beer vendors. Later that evening during the feature film event, Mountainfilm on Tour: Saugatuck, is a Midwest premiere screening of By Hand, "a feature-length adventure documentary film about twin brothers that paddled 2,200 miles from Alaska to Mexico". Meet in person the twins, Casey and Ryan Higginbotham, as well as the director, Kellen Keene, known for his work with National Geographic, Patagonia and Yeti. Following the film, attend the after-party and mingle with featured artists while you listen to live music by the Mark Lavengood Band.
On Saturday, March 28th, coffee, breakfast, and live music await you and, starting at 9:30 am, the Moving Mountains playlist will feature with its themes of equity, adventure and the outdoors. In between screenings, take an adventure climb and find beautiful views and warm surprises at the top of Mount Baldhead, no prior climbing experience is needed. The remainder of the afternoon and evening continues with films celebrating culture, adventure, and the environment, as well as more live music. Attend Beer, Banter and the Higginbotham Brothers, stars of By Hand, along with discussions with the film's director, Kellen Keene. Afterward, meet selected artists during a cocktail hour with live music by students of the Michigan Academy of Folk Music. The evening completes with a screening of short films, cocktails, and a more stimulating and inspiring conversation.
For the event, schedule and ticket information, please visit the Saugatuck Center for the Arts website.
Photography is truth. The cinema is truth twenty-four times per second. ― Jean-Luc Godard