Reel in a Trophy Fish at the Big Lake Classic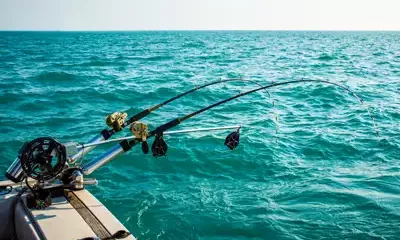 Fact: Michigan touches four of the five Great Lakes and has more than 11,000 inland lakes, plus countless rivers and streams. It's no wonder the fishing is good here in Michigan! Whether you're a champion angler or a weekend enthusiast, you'll find unmatched freshwater fishing opportunities here in Saugatuck, where the Kalamazoo River empties into Lake Michigan.
Michigan's world-class waters are home to 150 species of fish – brook trout (the state fish), bass, yellow perch, lake trout, Chinook salmon, northern pike and steelhead, to name a few. These are the fish that competitors will be reeling in during the 2022 Saugatuck Big Lake Classic. This sport fishing tournament draws anglers from all over to vie for the top prize of $10,000 in the professional division and $4,000 in the amateur division.
This is the 29th year for the Big Lake Classic, organized by the Saugatuck Sport Fishing Association. The tournament weekend starts with a captains' meeting and pig roast on Friday at Coral Gables, a great place for casual waterside dining in downtown Saugatuck. Saturday and Sunday are all about fishing. Boats can depart from Saugatuck, Holland or South Haven, but must remain within 500 yards of the breakwater in each location. Each day, the catches are weighed and a winner is crowned Sunday afternoon.
You can catch your own trophy fish when you book a private sport fishing excursion with some of the Big Lake Classic's top competitors. Last year's winner in the professional division was Jeremy Barber and his crew aboard the 36-foot Tiara yacht, In-U-Endo. Barber is the captain at Big Weenie Charters at Chinook Pier in downtown Grand Haven, Michigan. You also can book a charter with another top tournament competitor, Dave Engel and his crew of Best Chance Too, also a 36-foot Tiara yacht. Engel is one of three captains at Best Chance Charter Fishing here in Saugatuck. These captains are happy to share their vast knowledge of open lake fishing and tournament experience to help you reel in the big catch and create memories during the fishing trip of a lifetime.
"The man who goes fishing gets something more than the fish he catches." – Mary Astor