Saugatuck's Must-Visit Waterfront Restaurants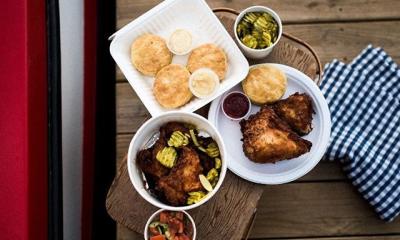 Though Saugatuck is known for its world-famous beaches and dunes and a thriving art scene, its dense culinary landscape should not be taken for granted. Summertime is the right time to grab dinner and drinks on a restaurant patio that overlooks Saugatuck's scenic waterways. This lakeside town is home to dozens of delicious, one-of-a-kind waterfront restaurants that make it the perfect destination for foodies from all over. Come for the food, stay for the view!
Here are just a handful of fan favorite waterfront restaurants that we think you should check out while you're in town enjoying a romantic getaway on Michigan's western coast.
The Southerner
880 Holland St., Saugatuck
You may be visiting the Midwest, but that doesn't mean you can't enjoy some scrumptious Southern cuisine. A gorgeous waterfront spot that strives to bring a little Southern flare to Michigan, The Southerner is known for its famous Nana's Fried Chicken and warm, flaky biscuits served with honey butter. If you are looking to add some soul to your summer vacation, this is the spot for you. Photo courtesy of The Southerner.
The BARge
528 Water St., Saugatuck
Seafood, burgers and tacos, oh my! The BARge is a coveted waterfront bar and grill in downtown Saugatuck. Serving ice-cold specialty drinks and yummy foods of all types by the water, this stop is the perfect place to have a good time and get to know the locals. We suggest you order the shrimp and scallop scampi pasta. It's to die for!
Mermaid Bar & Grill
340 Water Street, Saugatuck
Overlooking the Kalamazoo River, this family-owned, full-service restaurant is known for its fresh fish and fruitful cocktail selection. From its famous pan-seared Chilean sea bass to cooked-to-perfection filet mignon, Mermaid Bar & Grill has plenty of options suitable for all palates. We promise it'll be one of your favorite stops on your summer vacation!
Coral Gables
220 Water Street, Saugatuck
Coral Gables is one of the oldest family-owned restaurant and bar sites in the entire state of Michigan. The best part? It's located right on the water! Grab a seat on the deck and enjoy a leisurely meal while taking in the picturesque view. By the way, if you do not order the golden fried Great Lakes perch at Coral Gables, you are missing out!
The Butler
40 Butler St., Saugatuck
Conveniently located in the heart of downtown Saugatuck, it is said that The Butler has the best burger in town. We suggest you be the judge and try it out for yourself! This casual waterfront dining spot is filled with spectacular views of Lake Kalamazoo, the boardwalk and beautiful boats that are sure to take your breath away.