Savor the Flavors of Saugatuck's Best Restaurants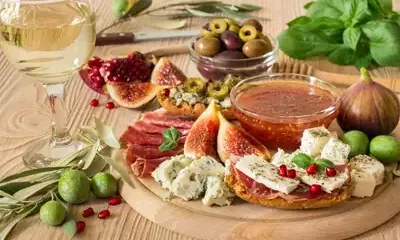 Whether you're a foodie in search of a vibrant food scene or just plain hungry for a delicious bite to eat, Saugatuck has some of the best restaurants along the Lake Michigan coast. One of the highlights to an awesome getaway is exploring your vacation destination's unique eats. In fact, one of the most frequent questions we get here at The Hotel Saugatuck from our guests is, "Where should we go to eat?" Trust us, there are a lot of scrumptious options.
Do you want a casual meal, maybe a picnic to bring on a hike or take-out to bring back to the inn? How about a lively brewpub or coffeehouse where you can let all the stress from everyday life go away? Or maybe you'd prefer to get dolled up for a romantic, candlelit fine dining experience? If you're trying to decide where to eat during your visit to Saugatuck, our convention and visitors bureau offers this comprehensive list of area restaurants. But we're happy to share a few of our personal favorites that might satisfy your cravings.
At Coast 236, you'll find approachable fine dining with a relaxed vibe. Sourcing meaningful ingredients from the water and land, Executive Chef Rick Bower's commitment to sustainability has earned him recognition as a James Beard Foundation Smart Catch Leader. The inspired offerings at this restaurant and bar pair high-end ingredients with locally sourced and seasonal items – an approach that means the menu changes several times a week. This fall you'll find menu items such as local cider-braised pork belly and a truffle risotto featuring Michigan sweet corn.
If a homemade burger and some killer fish tacos are what you're craving, then head to Wicks Park Bar and Grille. It's the perfect spot for fantastic food and drinks in a casual atmosphere and is located across from Wicks Park, a fantastic location to watch boats pass by on the Kalamazoo River. The menu features a mouthwatering mix of American grille classics and chef-inspired specialties. With live music every Friday and Saturday night, Wicks Park is great place to relax and unwind.
The marquee outside Phil's Bar and Grill might have you thinking you're stepping into a grand theatre, but the star of the show at this local favorite is the food! As the name suggests, you'll find tasty pub fare on the menu such as burgers, ribs and pasta. But it's the more unexpected offerings such as scallop pad thai and seasonal specialties like butternut squash bisque with red curry and coconut milk that have guests coming back to Phil's Bar and Grill time and time again.
Don't forget, when you stay with us at The Hotel Saugatuck, every morning starts with a gourmet breakfast in the comfort of your luxurious room. You'll choose from our chef's daily creations of dishes such as gingerbread spice French toast or a caprese frittata with home fries. Have we whet your appetite yet?