Snowshoe through Saugatuck's Dunes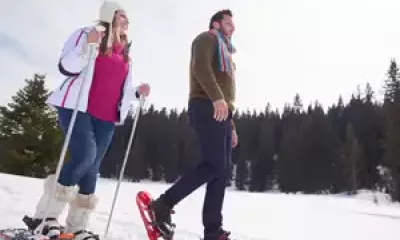 For winter outdoor enthusiasts, there's nothing more peaceful and tranquil than taking a hike on a bed of freshly fallen snow. Here in Saugatuck, the dunes that stretch along Lake Michigan's shoreline are the perfect spot for snowshoeing and exploring our winter wonderland on foot. Miles of spectacular trails wind through serene woods and along the lakeshore's edge. Don't miss out on this magical, snow-covered adventure that our summer visitors never get to see.
First, you'll need gear. We suggest stopping at Landsharks, your winter outfitter for renting snowshoes and poles. They'll have everything you need to explore the outdoors in Saugatuck this winter, including advice on how to make the most of your snowshoeing journey through the dunes.
Next, head to Saugatuck Dunes State Park. It's a great place to start your snowshoeing adventure.
Four different trails, ranging from 2.5 to 5.5 miles, are open during the winter and provide plenty of invigorating options for snowshoers of all skill levels. Twist and turn your way as you explore the maze of dunes and forests along Lake Michigan. Take a small break from your hike to enjoy the view of Lake Michigan and look for icebergs forming on the water's edge. When covered in a blanket of white, Saugatuck Dunes State Park's scenic trails are incredibly stunning.
You also can snowshoe on the trails at the Saugatuck Harbor Natural Area. Well-marked trails stretch along the rolling dunes north of Oval Beach, taking you through a 173-acre protected natural area. This long, peaceful strip of Lake Michigan, with its unspoiled dunes and delicate wetlands, is a great place to breathe in the energizing cold air as you listen to the waves on your long winter hike through the calm and pristine surroundings.