Spectacular Cross-Country Skiing in Allegan State Game Area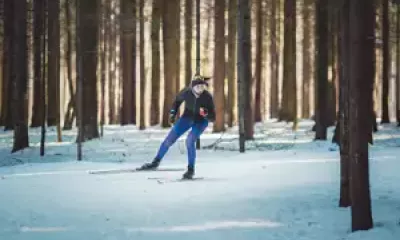 Any time of year, the Allegan State Game Area provides endless opportunities for outdoor adventures with more than 50,000 protected acres to explore. Hiking, fishing, horseback riding, canoeing, bird watching, hunting, biking – if it's an outdoor adventure you want, you'll find it here! But when winter comes and snow blankets the ground, the Allegan State Game Area offers unmatched terrain for cross-country skiing. With trails for all skill levels, cross-country skiing is an extraordinary way to explore western Michigan's exceptionally beautiful winter landscapes.
The Allegan State Game Area is located in west-central Allegan County between Allegan and Fennville, about 10 miles east of Lake Michigan. It's a huge forest with miles and miles of marked recreational trails. Beginning Jan. 1, more than 19 miles of cross-country ski trails open when there is sufficient snow. (The start date for skiing is set as not to conflict with hunting season.) The ski trails form six loops that span from north of M-89 to southwest of 116th Avenue, with the main trailhead near the game area's headquarters on 118th Avenue, just 25 minutes from The Hotel Saugatuck.
It won't be long before conditions are perfect for an invigorating trek through the snow-dusted game lands. Relish in the tranquility of the Allegan State Game Area in all of its winter splendor. Cross-country skiing is a truly great way to enjoy a Michigan winter. Trails here are heavily wooded and mostly flat, so whether you're a seasoned skier or a beginner, you'll find ski trails to accommodate all abilities. Be sure to check out the cross-country ski trail map to guide you. If you want a great cardio workout or are just looking for an excuse to get outside to enjoy the winter scenery, head to the Allegan State Game Area for your next cross-country skiing excursion.
Need to rent equipment? Landsharks, a specialty outdoors store in Saugatuck, is your go-to stop for rental skis, poles and boots.
Allegan State Game Area Headquarters
4590 118th Ave.
Allegan, MI 49010
269-673-2430