Spend the Day in Holland, Michigan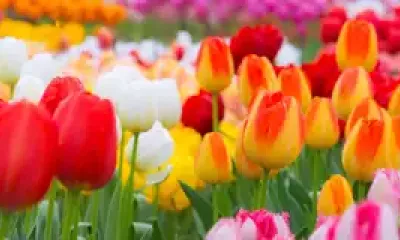 Forbes Magazine named Holland, Michigan, one of America's prettiest towns – and it's easy to see why. As the town's name suggests, Holland has a rich Dutch heritage that serves as its cultural identity and a theme for many of its popular attractions. Situated near the eastern shore of Lake Michigan on Lake Macatawa, Holland has much to offer – great beaches, a charming downtown, fascinating museums, active parks and welcoming Dutch hospitality.
One of the biggest draws for visitors to Holland are the tulips, making spring a great time for a day trip to see the city in full bloom. The annual Tulip Time Festival in early May will bring thousands of people to witness the vibrant rainbow hues of 6 million tulips planted along city avenues, in downtown planters and throughout city parks.
To immerse yourself in all things Dutch, head over to Windmill Island Gardens. This 30-acre park features a miniature Dutch village, interpretive exhibits, a tropical greenhouse, a Dutch carousel and an Amsterdam street organ. And we can't forget the 250-year-old DeZwaan Windmill, the only authentic Dutch windmill operating in the United States. Next, head to Veldheer's, where you can stroll through their impressive tulip farm garden and visit the DeKlomp Wooden Shoe and Delftware Factory. Bring home a handmade, hand-painted Dutch souvenir to remember your trip! You'll even catch a glimpse of real bison that are kept on the farm.
You can learn more details about Holland's Dutch history, culture and art at the Holland Museum. It's located in a neo-classical former post office building next to Centennial Park. The museum also operates two historic house museums, Cappon House and Settlers House, which tell the story of Holland's earliest settlers through the beautifully preserved dwellings of Holland's first mayor and a common worker's family.
Make some time in your day to kick off your wooden shoes and feel the sand beneath your feet at one of the city's amazing public beaches. Visit Holland State Park for an expansive beach front, walks on the pier, and stunning sunset views of Lake Michigan and the iconic Big Red Lighthouse. At the 22-acre Tunnel Park, you can walk through Michigan's only concrete tunnel through the sand dunes, where you're greeted by a sugar sand beach and an open vista of Lake Michigan on the other side.
Stroll through the historic downtown, with its heated streets and cobblestone sidewalks, to find charming boutiques, craft breweries and tempting eateries. You'll get a sense of downtown Holland's inviting vibe as you walk along the several blocks of 8th Street, venturing into its quaint shops. And there's no shortage of restaurants and brew pubs to quiet your grumbling tummy or quench your thirst. With over 25 eateries to choose from, it'll be hard to pick a favorite.