Summer Art Fairs on Michigan's Art Coast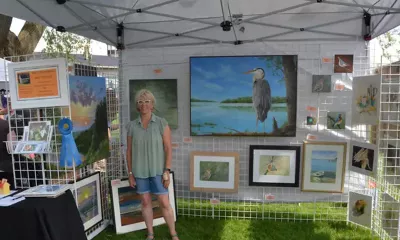 If you're coming to Saugatuck this summer to enjoy the beaches, trails and outdoor adventures, be sure to also carve out time to enjoy the rich cultural offerings of the Art Coast of Michigan. Its artistic roots were planted a century ago, when Ox-Bow began as a haven for artists and grew into the school of art and artists' residency it is today. Each July, visitors can explore this creative culture at two art fairs hosted by the Saugatuck Douglas Art Club. Proceeds from both art fairs go toward furthering the arts in our area through scholarships, local art programs, and the public school art program.
​Paintings, photographs, sculptures, wood work, pottery, fine crafts and more will spill into Village Square Park for the Waterfront Invitational Fine Art Fair on Saturday, July 3. This free-admission fair, which runs from 10 a.m. to 5 p.m., showcases the high quality and diverse works of 60 fine artists working in a variety of media. From jewelry to pottery, paintings to metalwork, there will be something for everyone in every price range. This is a juried show, and awards will be presented to winning artists in the afternoon.
The celebration of art continues the last weekend in July with the Village Square Art Fair. It will be held Saturday, July 31, from 10 a.m. to 5 p.m. at Village Square Park, and admission for visitors is free. This juried fine art fair has found its way into the hearts of Michigan art lovers and features work from different artistic categories. Shop beautiful and diverse works from artisans from around the nation.
There's nothing like spending a pleasant summer afternoon wandering through the art fair booths of regional and national artisans and looking for treasures to take home. Whatever you find, it will be a great souvenir to remember your extraordinary getaway on Lake Michigan.
"The purpose of art is washing the dust of daily life off our souls." —Pablo Picasso