Summertime Brings Broadway Shows to Saugatuck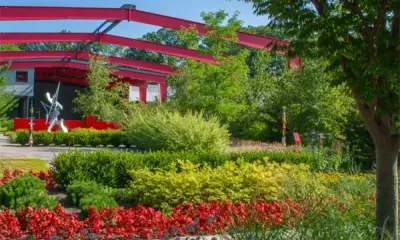 You don't have to travel to New York City to see outstanding Broadway shows with high-caliber actors, music, sets and costumes. Every summer, performers from New York, Chicago, Los Angeles and other major cities audition to be part of Mason Street Warehouse, West Michigan's only Equity theatre company. Audiences can see them take the stage at the Saugatuck Center for the Arts for provoking plays and hit musicals. Be sure to get tickets for a show this summer when you stay with us at The Hotel Saugatuck.
Founded in 2002, Mason Street Warehouse has made a name for itself as the premier destination for theater enthusiasts visiting the Art Coast of Michigan over the last 20+ years. Founder and artistic director Kurt Stamm splits his time between Saugatuck and New York City, where he has worked as an actor, dancer, choreographer, and director for over 30 years. As a nonprofit professional theatre, Mason Street Warehouse is committed to fostering a broader knowledge of the performing arts in an already thriving fine arts community. The intimate, 410-seat Bertha Krueger Reid Theatre at the Saugatuck Center for the Arts is the theatrical home for all of the Mason Street Warehouse's shows.
Each summer, Mason Street Warehouse produces a series of high-quality productions that showcase some of the best talents in the industry — and 2023 is no different. On the stage from June 23-July 16 is Kinky Boots, with music and lyrics by Cyndi Lauper and a book by Harvey Fierstein. Based on a true story, Kinky Boots introduces us to Charlie Price, who inherits a failing shoe factory in England. With the help of drag queen Lola, he transforms the factory into a thriving business by creating a line of high-heeled boots for men. Mason Street Warehouse's second smash show of the summer is Jersey Boys, which runs from Aug. 11-Sept. 3. Jersey Boys tells the story of four blue-collar boys from New Jersey who become one of the biggest American pop music sensations, The Four Seasons. The musical portrays their rise to fame, their personal struggles and the conflicts that led to their eventual breakup.
From casting to costumes to choreography, Mason Street Warehouse prides itself on putting on top-notch performances that are worthy of Broadway stages. It's a true gem of the Saugatuck's artistic community and makes for a great night out, whether you're a lifelong theater-goer or just looking for something fun to do on your lakeside vacation. If you find yourself in West Michigan this summer, book your stay with us at The Hotel Saugatuck and be sure to check out one of Mason Street Warehouse's productions – you won't be disappointed!