Taste Handcrafted Beer at Saugatuck-Douglas Breweries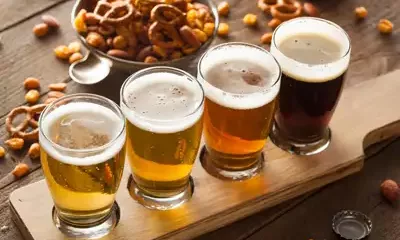 There's nothing quite like sipping on a refreshing draft beer on a hot summer day. From wheat beer to IPAs, from stouts to seasonals, breweries here in West Michigan have a beer for every palate. Bottoms up! There are plenty of tasting opportunities within minutes of The Hotel Saugatuck, where you can find a style of beer that suits your mood and taste. Every day is a great day for a beer by the lake! Take a self-guided craft brew tour of the Saugatuck-Douglas area with a stop at these four breweries.
Saugatuck Brewing Company
2948 Blue Star Hwy.
Douglas, MI
The Saugatuck Brewing Company prides itself on crafting unique beers, always striving for the perfect pour. Their offerings include a number of mainstay brews, plus seasonal and specialty varieties that range from barrel-aged Imperial Stouts to Sessionable IPAs. Get a taste of their liquid creativity at their brewery, which boasts a pub with two tasting rooms and outdoor patio dining. Their inspired food menu includes everything from unique entrees to shareable appetizers. Kick back and listen to free live music. Or enjoy a pint while you play a game of shuffleboard, bumper pool or pinball.
Guardian Brewing Company
3657 63rd St.
Saugatuck, MI
Craft beer lovers and foodies will find everything they're looking for at Guardian Brewing Company. Located in a century-old red barn, this destination brewery offers a wide variety of beer styles, from traditional to modern. Guardian Brewing creates a welcoming environment in their unique brewpub, with 22 taps of fresh, barrel-aged and session beers to pair with an eclectic menu of brats to salads to tacos. On Sundays, enjoy live music while you dine and drink. Or come for one of Guardian Brewing's special events, including Maker's Markets, various workout classes, and their famous Beer School.
Waypost Brewing Co.
1630 Blue Star Hwy.
Fennville, MI
Waypost Brewing Co. is a small, independent farm brewery in nearby Fennville. The quality beer produced here is inspired by the farm, and the fields provide the ingredients for many of their products. Imbibe in a hoppy Farmhouse IPA or a deep-roast Sea Salt Stout. Or try a flight of four beers to get a sample of Waypost's favorite drafts. Enjoy meats, cheeses, flatbreads and other snacks with your beer, or check out their website for a rotating food truck schedule. Their tasting room and garden patio are open to guests Friday through Sunday, or you can stop by for take-out/curbside during the week.
Mitten Brewing Co.
329 Water St.
Saugatuck, MI
Mitten Brewing Co. is a vintage baseball-themed microbrewery that expertly pairs handcrafted beers with gourmet pizzas. The Saugatuck pub boasts some dynamite outdoor seating, where you can enjoy lake breezes with a cold craft beer in hand. Ahhh, refreshing! On tap this summer, try the Harwell, an American-style wheat ale, or their Mango Gold Colada, tart wheat with coconut and pineapple. Seasonal beers are always changing, so check out what's on tap during your next trip. Come hungry and order a mouthwatering pizza with a host of specialty toppings.