The Tulip Time Festival
Last month, as spring made its very first appearance, the town north of us, Holland, was a hot topic. Its ability to transport you to its European namesake in a variety of ways has made Holland one of the most interesting, and beautiful, American towns. And it's about to be in bloom. Named by USA Today as 2016's Best Flower Festival, Tulip Time breathes life into the town with its full-throttle cheerfulness and color that is guaranteed to accompany the onset of spring with a good-natured flourish.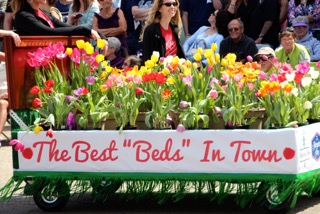 From May 6th to 14th, Holland celebrates its Dutch heritage and founding with Tulip Time, a week-long festival that blankets the area in millions (literally five million!) of vibrant tulips and includes activities and events like parades, concerts, dancing, Arts and Crafts Fair, and more. You'll also find art galleries, distillery tours, and concerts. The trolley tours are a great way to travel along the tulip-lined routes throughout the town, only cost $20, and include a knowledgeable host and tour guide that will take you on your two-hour ride, but be wary of the first-come, first-serve sales ethic that the trolley practices.
Visit the website to get informed on where the tulips will be planted around town if the flowers themselves are the main attractions for you. To visit the absolute best locations for viewing tulips, find your way to Windmill Island Gardens from our post last month and Nelis' Dutch Village, as well as Veldheer's Tulip Farm just north of the Village. Treat your loved one to a bouquet, some tulip bulbs, Dutch chocolate from the market, or a pair of wooden shoes. All three of these locations sell tulip bulbs so this is your opportunity to grab some bright colors for the lawn out front at home. Plus, you can always tell them they're from Holland.
For festival information or to purchase tickets visit the website. Plan your trip today!
12350 James Street,
Holland, MI 49424
Phone: 616-396-1475
Book OUr Free Tupil Getaway Package
Stay at The Hotel Saugatuck May 6 -14 and add our free Tulip Getaway package to your reservation. Get our Tomato Cream Cheese Tulips with your in-room breakfast. Upon return from the festival each evening, The Hotel Saugatuck will also have a special in-room dessert for you (Festival tickets not included).
The Hotel Saugatuck Tomato Cream Cheese Tulips Recipe
Ingredients
1-pint grape tomatoes
1 package (8oz) cream cheese
2 bunches of green onion
1 large garlic clove
10 chives
Juice of 1/2 lemon
pinch kosher salt
Instructions
Cut off the roots and ends of the green onion

Let cream cheese sit out for 1/2 hour to get to room temperature. Then chop chives and garlic together using an electric mixer. Next whip the cream cheese, chives, garlic, and salt until blended evenly. Add lemon juice and blend into the mixture.

Using a skewer, poke a hole in the stem side of each tomato. Keeping the stem side down, make a cross (2 slices) 1/2 way down the tomato using a small spoon (or the tip of an old fruit peeler) scoop out the seeds from the inside of the tomato.

Take a pastry bag and tip, fill the cut side of the tomato with cream cheese, and

insert the green onion into the hole at the stem end of the tomato.