Uncork a Bottle of Michigan Wine or Cider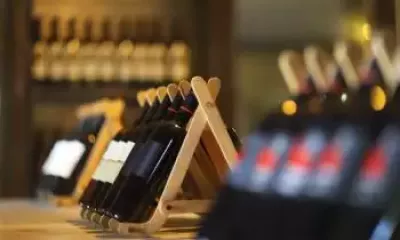 Any time is a good time to enjoy Michigan-produced wines and hard ciders. But if you need another reason to grab a bottle of your favorite libation made from fruit grown along the shores of Lake Michigan, this is for you: Saturday, April 10 is Open Local Wine Day. To participate, uncork your favorite Michigan wine or hard cider and post pictures to your social media using the hashtag #openlocalwine. Be sure to share why you picked that wine and where you purchased it. We recommend stopping by these local wineries, all located in Fennville, just a 15-minute drive from The Hotel Saugatuck. Stop in for a tasting and then grab a bottle (or more) to go to enjoy in the comfort of your Hotel Saugatuck room next to the cozy fireplace.
Fenn Valley Vineyards
6130 122nd Ave.
Fennville, MI 49408
This award-winning estate winery has been family-owned and operated since 1973. From grapes grown on their 240-acre farm, Fenn Valley produces award-winning reds, white, and rosés. Visit their substantial tasting bar, grab a bite to eat, and enjoy the beautiful patio with stunning vineyard views. With more than 40 wines to choose from, you'll be sure to find several that tempt your palate. Want to grab a quick bottle to go? Stop by Fenn Valley's tasting room in downtown Saugatuck at 310 Butler St.
Crane's Pie Pantry Restaurant and Winery
6054 124th Ave.
Fennville, MI 49408
Crane's Winery was born out of a rich farming history that spans five generations of the Crane family. From their centennial fruit farm, the family opened a bakery and restaurant in the 1970s, and the current generation of Cranes launched Crane's Winery in 2014. The winery produces premium hard cider as well as high-end red and white wine. Try several wines or ciders with a tasting flight in their tasting room in Fennville or their downtown Saugatuck location at 435 Water St.
Modales
2128 62nd St.
Fennville, MI 49408
At Modales, the expansive 2,800-square-foot patio that overlooks their 76-acre farm is a great place to unwind with a glass of wine while taking in the impressive view. The signature Modales brand offers estate-grown bottles of elegant red and white wines. Sister brand Ooba focuses on fruity, lightly effervescent wines and bubbly ciders that are sold in cans and growlers. Modales will begin offering tours of their winery operations this fall.
Michigan Wine Company
6781 124th Ave.
Fennville, MI 49408
A newcomer on the wine scene, Michigan Wine Company is already making a name for itself since opening in early 2020. This micro-winery and vineyard create small-batch wine and hard cider with "artistry and emotion." Stop in for a tasting, wine by the glass or a bottle to go. Enjoy the tasting room inside or take advantage of the patio heaters and campfire outside as you sample a handcrafted flight.