Unique Summer Adventures in Saugatuck-Douglas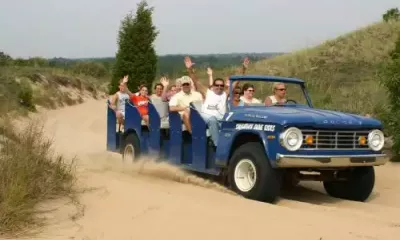 With all that Lake Michigan, its dazzling waters and impressive sand dunes have to offer, there is no shortage of opportunities for outdoor adventure. In the summertime, we love to stroll along the beach, splash in the lake's fresh water, and get our hearts pumping with a good hike. But on your next trip to Saugatuck-Douglas, why not try something a little out of the ordinary? Here are a few of our favorite one-of-a-kind adventures that you'll only find here in our little slice of heaven on earth.
Have you ever taken a dune buggy ride? If not, it could be the highlight of your next stay with us here at The Hotel Saugatuck. Let Saugatuck Dune Rides provide you with a tour of one of West Michigan's treasures -- the sweeping sand dunes that line our coast. Hop in the 16-passenger open-air modified dune buggy for a 40-minute trek of the gorgeous sand dunes. There's nothing like an open-roof dune ride that takes you off-road and deep into the rolling hills of sand overlooking Lake Michigan!Learn about the ecology of the dunes, enjoy a thrilling ride, and laugh at all the corny tour guide jokes! See why satisfied customers come back year after year.
If you love to spend time on the water, we suggest a ride in the sleek, vintage-style boats from Retro Boat Rentals – complete with flashy fins and headlights, fun retro colors and shiny chrome details right out of the jet-age era. Cruise the Kalamazoo River in these electric-powered boats that are perfect for exploring the no-wake waters around Saugatuck-Douglas. For boats that can handle a small crowd, rent one of Retro's donut boats, duffy boats or pontoon boats. Whichever watercraft you choose from their fleet, you'll be able to explore our beautiful waterways in style.
Did you know Saugatuck is home to a hand-cranked chain fairy that is the last of its kind in the United States? That makes a trip on the Saugatuck Chain Ferry a unique adventure, for sure! Climb aboard Diane (that's the ferry's name) for a 250-foot ride across the channel from downtown Saugatuck to Oval Beach. The ferry is guided across the Kalamazoo River by a chain that is connected to both sides, hand-cranked by trained operators. In operation since 1838, you'll definitely want to take the short ride on this historic ferry. Pro tip: After your ferry ride, climb to the top of majestic Mt. Baldhead. Your reward for climbing the 303 wooden steps to the summit will be the breathtaking views. Truly stunning!
"Adventure is worthwhile in itself." —Amelia Earhart