Visit One of the World's Top Beaches in Saugatuck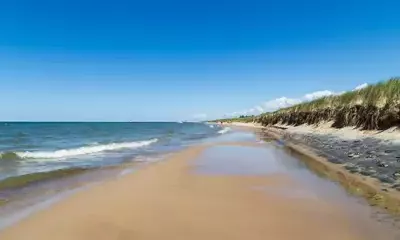 A sweeping shoreline, sugar-sand beach, sparkling water, towering sand dunes. If this describes your ideal beach, then make plans to visit Saugatuck this summer and spend a day at our world-renowned Oval Beach. This is Saugatuck's main beach on Lake Michigan and is a summertime favorite for residents and vacationers alike. Condé Nast Traveler has ranked Oval Beach one of the Top 25 beaches in the world. That's a pretty tall order, but Oval Beach lives up to the acclaim.
People flock to Oval Beach in the peak summer season to soak in the warm sun and splash in the waves. The refreshing lake waters are perfect for swimming and floating on inflatables – and you might even catch a kite surfer or paddle boarder out on the water. Get in a workout by climbing and exploring the massive sand dunes or taking a long walk or run along the sandy shoreline. Oval beach is truly a summertime playground.
Even at its busiest, Oval Beach can be a relaxing, peaceful destination. Make plans to enjoy a picnic on the sands as you take in the breathtaking water views. They are spectacular and seemingly endless; you'll have to remind yourself you're not at the ocean! Purchase food from the beach's concessions area, or order a picnic meal to bring with you from one of Saugatuck's delicious eateries, like Pennyroyal Café & Provisions or Fresh Basil Cafe. (A cool salad or wrap would be great to-go on a hot summer day.) And Lulu Cadieux offers a classic French picnic with baguette sandwiches, salad, fruit and dessert – all packaged in a yours-to-keep picnic basket.
Stay at Oval Beach through the evening (or come back after a day exploring the Saugatuck area), and you can witness an impressive and vibrant sunset over the water. The view of the Lake Michigan coastline is nothing short of stunning as the sun goes down over the horizon. It's an awesome ending to a perfect summer day at the beach.