Visit Saugatuck's Annual Sidewalk Sale in the Shopping District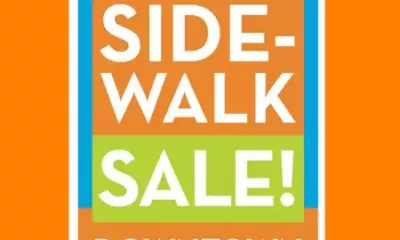 Apparel, jewelry, accessories, art, antiques and home decor are just some of what bargain-hunters will find marked down during this year's Saugatuck Sidewalk Sale. This much-anticipated annual event is slated for Thursday, Aug. 19, from 9 a.m. to 5 p.m. in downtown Saugatuck along iconic Butler Street. During this one-day shopping extravaganza, local shopkeepers will line the streets with colorful canopies to display their amazing discounts and deals. Plus, catch live entertainment as you stroll from shop to shop.
If you love a good sale, this is definitely an event you won't want to miss! It's a great time to pick up a souvenir to remind you of your spectacular coastal Michigan vacation.
What makes shopping in Saugatuck so exciting, you ask? One-of-a-kind shops, owner-curated boutiques and fine art galleries around every turn in Saugatuck's Shopping District. Looking to bring home a taste of Michigan to remind you of your travels? Stop at American Spoon Foods, offering Michigan-made small-batch fruit preserves, condiments, sauces, drink mixes and more. Want the latest trendsetting fashions? Chantal Fashion Apparel and its companion stores, Chantal For Him and Renaur By Chantal, offer guests top-quality, designer boutique apparel. Hoping to check out some gorgeous fine art? Good Goods on Mason Street has beautiful items hand-crafted in America, as well as fine art and clothing designed and created by area artists. These are just a sampling of the remarkable local shops ready to cater to your every desire!
Shopping in downtown Saugatuck is a unique adventure; there is simply something for everyone! Spend a few hours or devote an entire day to seeking out the treasures along the sidewalks and tucked inside the doors of these lovely shops. Then, when you are done, wander back to The Hotel Saugatuck for a refreshing drink, a sweet treat and a cozy place to put your feet up for the night.
"Whoever said money can't buy happiness simply didn't know where to go shopping."
—Bo Derek