Wine and Music...in the Vineyards and on the Water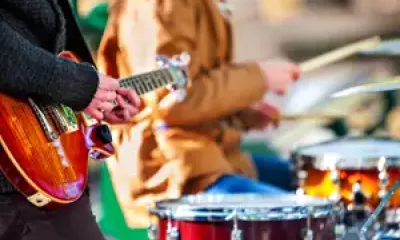 Ahhh...fall is upon us in Western Michigan! Trees are exploding in autumn colors of reds, yellows and oranges. Pumpkins, apples, grapes and fall-harvest crops are abundant. And cooler temperatures mean sweater weather and the perfect climate for spending time outdoors exploring all that Lake Michigan's coastline has to offer.
Pack your favorite cardigan and join us at The Hotel Saugatuck this fall, where you can enjoy a romantic getaway, away from the stresses of busy schedules. During your visit, enjoy the fruits of the labors of our local vineyards that are currently harvesting grapes – from Seyval to Chambourcin – for their next vintage of wines. At Fenn Valley Vineyards, you can spend an evening sipping wine and listening to music at Music in the Vineyards. With the heat, humidity and bugs gone, it's the perfect conditions for enjoying a magical evening in the open air with a breathtaking view of the vineyards. Bring a blanket to sprawl on the lawn and listen to local musicians perform music in every genre – jazz, blues, folk, rock, country and more. Check their music schedule for shows that run through October.
Maybe you'd prefer to enjoy your wine with a view of the water. Then check out the Star of Saugatuck, an authentic sternwheeler paddleboat that offers Wine of the Water events on select Saturdays. Sit back and savor the wine and the stunning views of the changing season as you cruise on the Kalamazoo River into Lake Kalamazoo and ultimately onto Lake Michigan (conditions permitting). During the 90-minute boat ride, sample five different wines in a guided tasting while you enjoy panoramic autumn views of Saugatuck, Lake Michigan and all of their colorful splendor.
Fenn Valley Vineyards
6130 122nd Ave.
Fennville, MI 49408
269-561-2396
Star of Saugatuck
716 Water St.
Saugatuck, MI 49453
269-857-4261