Winter Wonderland at Saugatuck Dunes State Park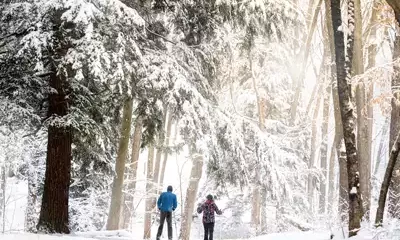 Saugatuck Dunes State Park is the ideal vacation hideaway spot for couples interested in exploring challenging climbs and hiking along the long shorelines. The dunes and forest views of Saugatuck Dunes State Park will take your breath away, especially in winter, when covered by thick white snow. The guide will tell you interesting facts about the history of the area while also providing many, many laughs along the way. This is one activity we highly recommend.
If the weather conditions are ideal, you might bear witness to some rare and unusual phenomena such as ice balls and fissures along the shoreline at Oval Beach. Giant balls of ice form when low temperatures cause a floating slush layer on the lake to be sculpted into spheres of ice by the waves. When waves hit the ice accumulated on the shoreline, water erupts upwards like a fissure. Should you be lucky enough to witness these strange weather-specific occurrences, we urge you to observe the natural beauty of Lake Michigan from a safe distance.
If you're up to the challenge, you could climb up the 302 steps to the top of Mount Baldhead to take in the breathtaking scenery of Saugatuck, Douglas, and Lake Michigan. It will seem daunting at first, but once you make it to the summit, you'll realize it was well worth the reward. Plus, it's great exercise!
If you're in the mood for something less tiring, visit the Fenn Valley Vineyards – Saugatuck Tasting Room on Butler St. The host is amiable and a connoisseur in wines. They will let you taste a variety of different wines and hard ciders before you decide which ones you want to take home to enjoy in the privacy of your luxury suite.
At the end of each long day, you might want to get a full body massage to release the built-up tension in your muscles. Even at night, the hotel will pamper you with homemade sweets. With many activities nearby to choose from, and a complete luxurious bed and breakfast experience, make this winter a memorable one!