Art in the Park in Holland, Michigan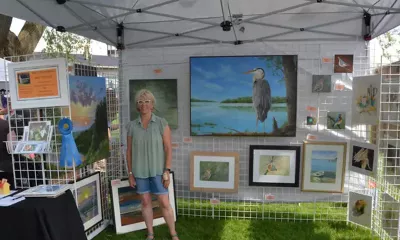 Thousands of people will converge on downtown Holland on August 6 for Art in the Park – a day of fine art and crafts, live music, and food. In its 51-year history, this event has grown to draw one of the largest influxes of visitors to the city on a single day, second only to Tulip Time. Come see for yourself why this signature West Michigan event is well-known to art lovers throughout the area and beyond.
Held annually on the first Saturday in August from 9 a.m. to 4 p.m., Art in the Park welcomes as many as 300 artists and artisans from eight states to exhibit and sell their work. Artists will showcase their paintings, sculptures, ceramics, jewelry, fiber art, glass, woodwork, photography, folk art and more. Whether you're an art connoisseur or just like to take an afternoon to admire the talent of skilled artists, you'll be impressed with the level of creativity and craftsmanship on display.
Centennial Park is the picture-perfect spot for this art extravaganza, with its brick pathways, flowerbeds, gazebo, traditional Dutch fountain and fish pond. This Victorian-era park once served as Holland's marketplace. On August 6, it's a marketplace for fine art, crafts and culinary art products. As you stroll through this charming park, stop and shop at the various tents and booths, enjoy live music and entertainment, and grab a delicious bite to eat. It hits all the senses!
Art in the Park is the main fundraiser to support Holland Friends of Art, an organization committed to growing an appreciation of art and encouraging creative talents through scholarships, art competitions and free community programs. As a juried show, the top artistic exhibitors in a number of categories will be recognized for their outstanding work. So you know the fine art and crafts you'll see at this show will be top-notch!
Centennial Park
250 Central Ave.
Holland, MI 49423