Saugatuck's Craft Distillery Tasting Room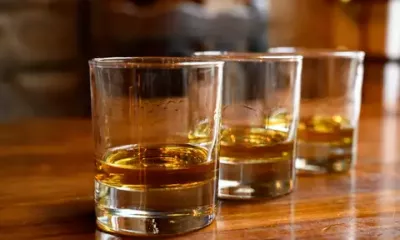 If you're a frequent visitor here in Saugatuck, it's very likely you've explored our local wineries and craft breweries during your getaway trips. And while Michigan is better known for its wine and beer scene, our state's reputation for handcrafted spirits is on the rise. Thanks to our abundant agriculture, distilleries here have access to local crops of corn, barley, and other grains and fruit. And with craft-distilled liquors growing in popularity all over the country, it's no wonder distilling operations are thriving in West Michigan.
Saugatuck has two downtown tasting rooms where you can sip on samples of locally made spirits — from vodka and gin to whiskey and brandy. Put these two stops on your travel itinerary for your next stay with us at The Hotel Saugatuck.
Coppercraft Distillery │ 340 Water St., Saugatuck, MI
Coppercraft Distillery's Saugatuck tasting room offers an intimate tasting experience in the heart of our waterfront town. In this cozy and inviting space, you can enjoy free samples of small-batch spirits or order a handcrafted cocktail from the bar. The staff at Coppercraft is knowledgeable and friendly, and they are always happy to answer any questions you may have about their products. Since its founding in 2012, the distillery has worked to perfect and expand its fine spirits offerings to include whiskey, vodka, gin and rum. Coppercraft also sells premium canned cocktails, such as gin and tonic or whiskey lemonade, perfect for quenching your thirst on the go.
New Holland Spirits │ 201 Culver St., Saugatuck, MI
The New Holland Spirits tasting room in Saugatuck is the perfect spot for happy hour cocktails or an after-dinner nightcap. In this modern-industrial space, you'll find carefully crafted whiskey and gin on the menu, as well as several seasonal and specialty spirits. Be sure to try their popular Beer Barrel Bourbon. Everything is offered as a 1-ounce pour, or you can ask for a flight to try a variety of spirits. New Holland Spirits also has created an impressive list of delicious cocktails, like the blackberry sour and Lake Life vodka lemonade, and even offers a rotating flavor of frozen cocktail slush.
Both Coppercraft Distillery and New Holland Spirits are based in nearby Holland, Michigan. Located just 20 minutes from The Hotel Saugatuck, you can make the short drive to visit the home base of each of these spirits companies. Coppercraft offers tours for a behind-the-scenes look at the science and art of producing small-batch spirits, while New Holland has a brewpub that features their craft beers and spirits alongside a delicious menu of salads, sandwiches and pizza. Whether you check out their Saugatuck tasting rooms or their Holland headquarters, these two premier Michigan distillers will not disappoint!