Spend a Day Exploring Grand Rapids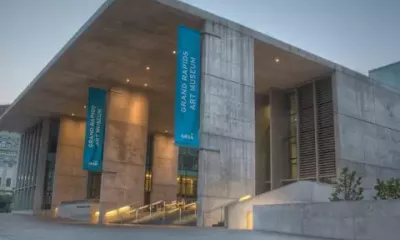 When you visit Saugatuck to spend a relaxing vacation along the sandy shores of Lake Michigan, sometimes it's fun to venture off on a day trip to explore some of Michigan's other amazing destinations. Head just 40 miles northeast of The Hotel Saugatuck and you'll find yourself in Grand Rapids. As Michigan's second-largest city, it has much to offer visitors, including interesting museums, a thriving art scene, excellent craft beer, scenic parks and more. If you're looking for a fun day-trip destination, Grand Rapids should be at the top of your list.
One of the best ways to experience Grand Rapids is by exploring its art scene. The city is home to the Grand Rapids Art Museum, founded in 1910. Since then, it has grown to include more than 6,000 works of art, including American and European 19th- and 20th-century paintings and sculptures and more than 3,000 works on paper. Another must-visit spot for art enthusiasts is the Frederik Meijer Gardens and Sculpture Park, which combines the experience of stunning gardens with fine art. The 158-acre grounds feature Michigan's largest tropical conservatory, five indoor theme gardens, extensive outdoor gardens, nature trails, a sculpture park and a 1,900-seat outdoor amphitheater.
Grand Rapids is home to the Gerald R. Ford Museum, dedicated to the life and legacy of America's 38th president. The museum features a variety of exhibits and artifacts that detail President Ford's life, including his childhood, time in the Navy and political career. The museum also houses a replica of the Oval Office and an extensive collection of photographs, documents and other materials related to the Ford presidency. Another notable site is the Meyer May House, a historic home designed by famous architect Frank Lloyd Wright in 1908. The house was originally built for Meyer May, a prominent businessman in Grand Rapids, and features many of Wright's signature design elements, including a cantilevered roof, an open floor plan and geometric patterns. After undergoing extensive restoration, the Meyer May House is now open to the public for tours, providing visitors with a glimpse into early 20th-century American architecture.
Did you know Grand Rapids is referred to as Beer City USA in recognition of its thriving craft beer scene? It's easy to see why it's one of the best beer cities in the country. There are dozens of breweries in the city, each offering its own unique selection of handcrafted beers. Some of the most popular breweries include Founders Brewing Co., Brewery Vivant and Harmony Brewing Company. Many of these breweries offer tours and tastings, allowing visitors to sample their brews and learn about the brewing process.
For those who enjoy the great outdoors, Grand Rapids has plenty of parks and natural areas to explore. Millennium Park is one of our nation's largest urban parks covering 1,400 acres of rolling terrain and six miles of frontage on the Grand River. With 18 miles of hiking and biking trails, a six-acre beach, a 20-acre lake for kayaking and paddleboarding, boat rentals, and picnic areas, it's a beautiful and expansive urban oasis.
When it comes to dining in Grand Rapids, there are plenty of options to suit every taste and budget. The city is known for its farm-to-table cuisine, and many restaurants showcase locally sourced ingredients in their dishes. For a casual meal, check out the Grand Rapids Downtown Market, which features a variety of vendors selling everything from tacos to sushi. Bistro Bella Vita is a popular spot, with a menu inspired by the flavors of Italy, France and Spain, and an impressive wine list. For a more upscale experience, try The Chop House or Leo's Seafood Restaurant and Bar.
A day trip to Grand Rapids is a great way to experience this lively West Michigan city. Whether you're interested in museums, art, beer, outdoor activities or cutting-edge dining, make plans to visit this vibrant city during your next vacation stay with us at The Hotel Saugatuck. We're happy to be your home base as you explore all that West Michigan has to offer.